marked my part at the Nursch amateur race.
As I had just recovered from a heavy cold, my body wasn't able to…do was has to be done
But thats only one side of the coin, I do still have a lot of technique gaps, which have to go, better now then then.
Most hampering part: Lacking speed in curves, as well as downhill.
Certainly it's kind of fear too, but this could be overcome due to confidence in my driving skills. (same as with the motorbike, years ago)
Curve techniques are really bad, I think, I will search for a training to help me get forward.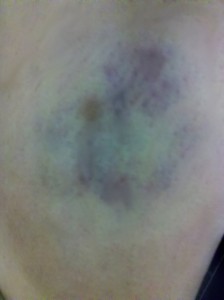 Still, I did my best, as you can see at the picture aside.
Its an approx 10cm bruise I reveived by tackling with another drivers bike (Yes, I mean you Nr. 7 )  😉
As it seems, time has come to spent some money for a good, and stable knee brace .