This post is also available in:

Its the coldest winter since 30 years,
for weeks there were very low temperatures deep beneath 0°  day and night.
There is snow aside of the street, and the streets are covered with sand, ice or salt.
But, does this stop us riding? No, not even then!  😉
I pondered for a  short time, as my Versys would be the first choice (Heat Grips  😉  ) , but the tires? Pilot Power 3 tires are not build for temperatures below 5° +
Thats, why my decision was to take the newly transformed Enduro, now Supermoto from junior.
Some longer night session later in the cold  shed (more details to come in one of my next posts) it was nearly ready to go.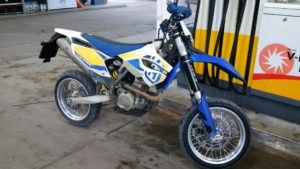 Only the  DB Eater wasn't to find (no big issue  😉   ) , the brake light wasn't working, but I didn't had the intension to brake a lot, and the speedometer failed from time to time.
But overall, the SM was ready to go   🙂 .
Right at the first bend I did crash with my bike, due to some sand and ice at the tarmac.
Ok, put it back on wheels, and on we (carefully) went.
I did  miss the first meeting point, but arrived right in time for the second one and joined the  brave small group.
And cheerfully we rode on through the hills around Viennas woods:
It was freezing cold, and ice flowers growed inside the visors of our helmets, but it made a lot of fun, though. So, see you next year! 🙂
Addendum:
Today, 2 days later: