This post is also available in:

The sun, slowly she breaks through the thick grey clouds above Vienna, and so enabling a warmth, we haven't felt in months.
Long time ago I wrote in the blog, that I am on search for a winter project. As you know it was the transformation of Juniors enduro to a supermoto.
After a long, horrible working week, bad news in row, it was high on time to enjoy the weekend with the newly constructed SuperMoto. 🙂
First time I could do a test was with the Ice crystal rally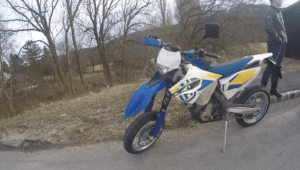 The result wasn't to bad, still there were some adjustments to make. Rim Stickers, horn, brake light, blinker indicators, dB eater and speedometer were not installed properly, or not functioning, but in the meantime, most of them are fixed and so we could start for our first road trip of the season.
Of course, junior was there, and although he was not allowed to ride on his own bike due to the missing A2 upgrade (in November, of course, he hadn't an opportunity), he did not want to miss out on this marvelous ride. And we had a short opportunity for him to ride it too. 😉
As mentioned above, a few things are missing, among others the dB Eater is still not dived.
We had dismounted it before the last EBR and after that we still did not miss it 😉 , But on the road, the relatively noisy exhaust sound was going on my nerves and i didn't want to be responsible for road closing too. Therefore I did a silent run in sme sections, reducing the fun.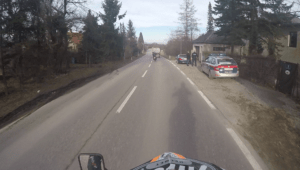 The police then stood on every street corner, making the trip exciting too. To be constantly on guard was a new experience. 😉
Our trip was not too long, just 2 hours took the trip around the southwest area of Vienna. I wanted more but Junior with his 125cc VanVan wasn't able to follow the whole time, so we kept it short.
But, it was perfect weather and the streets were in a very good condition, what more does Versya want?