This post is also available in: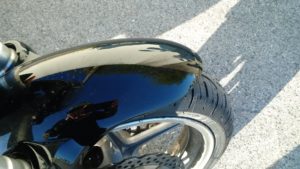 I had to wait for almost 3 weeks (in words: three), until the front fender and with it the tires were exchanged on my Versys. On Tuesday, right in time before the Wima round table, I was able to receive my Versys again .
And here was the first nasty surprise: The tires were the wrong type!
Or, in other words: the tires might have been my possible choice weeks ago, but in the meantime, I decided to go with the Pirelli Angel GT and I told so to the workshop.
Hmmm, what to do?  But, the Faux Pas isn't so painful with a smart price reduction. 😉
Not, that the pilot road tires are of poor quality,they are quite the opposite – I know from my own experience -, but a training at the race circuit will be a little difficult, though.
As it seems, I will have to look for a rather cold and wet day there 😉

When discussing this, I realized that the metal valves are not mounted, but the standard rubber valves. ->
Thus meaning, that my idea of ​​installing the pressure and temperature sensors for the tires, which have been lying around for a year at home, is again postponed.  Merde 🙁
Now, to tear everything  down again, and completely re-assemble the tyres would be madness.
So, with the promise to do the next tire change in goodwill,  I leave the workshop to drive in the Marchfeld – as good as possible there 😉 – to get rid of the lubrication layer .
Gloriously feeling again, vibrating over the roads. 🙂
The evening at Wima was in a wonderful mood, the main theme were our new members and the planned tour on May 6th with the scope of the IFRD,
and also the return home, after the meeting, was wonderful.
But, the next morning, the next nasty surprise:
My Versys is laying on the side?!?!!
Unfortunately it is unclear whether a passing bus took the front wheel, or whether other influences were to blame, it is down on the tarmac. 🙁
In general not a big drama, protectors are installed in all neuralgic places, but after the errection the inspection shows, that the drop was not without consequences: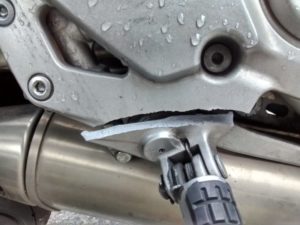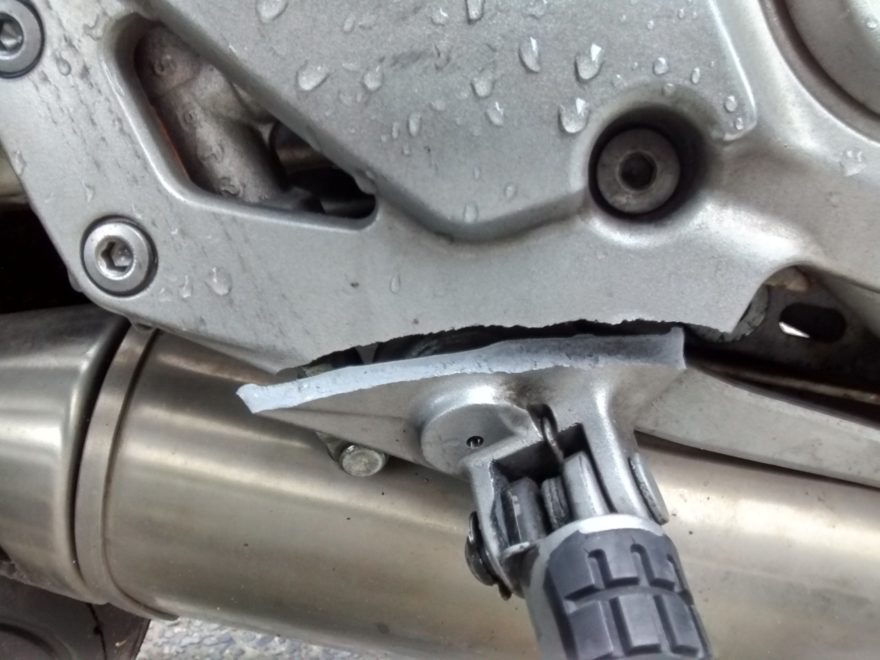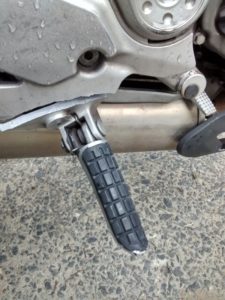 Why the footrests have not given way is a riddle to me, but the break is respectable, I could not have done better 😉
Of course I looked in the instant where to get a spare part in a reasonable time. But the minimum delivery time is: 4-5 days!
*** I want to cry, Saturday is the tour and today it's Wednesday !! ***
The rear wheel brake does not matter to me, but without a footrest a day tour? It does not work!
Drill some holes, and screw it together, somehow?  I still have to try ……….
To be continued …