This post is also available in:

Today I spend the day packing up my motorhome (sic!) for the next 2 weeks. The optimal distribution of all things on the two suitcases and the tent bag needs some time. I am getting better every year by leaving out unnecessary utensils and meanwhile I get along with one suitcase for the complete robe and toiletries, but the tools/spare parts and flag corner is growing from year to year 😉 . That's clearly work in progress and place for improvement.
And this time the camping and cooking equipment has to come along as well. Ideally it should be stored in an optimized way, so that it will be up and ready very quickly when I stop (even in the dark)
Since experience has shown that the two cases are not 100% waterproof, sensitive items are stored in extra bags that are waterproof. The colours of the bags help me to assign the contents.
For the attachment of the rear bag I use Rok Straps (of course available at Louis, etc too…) these have proven themselves over years and adapt flexibly to the respective task. Simply a miracle thing.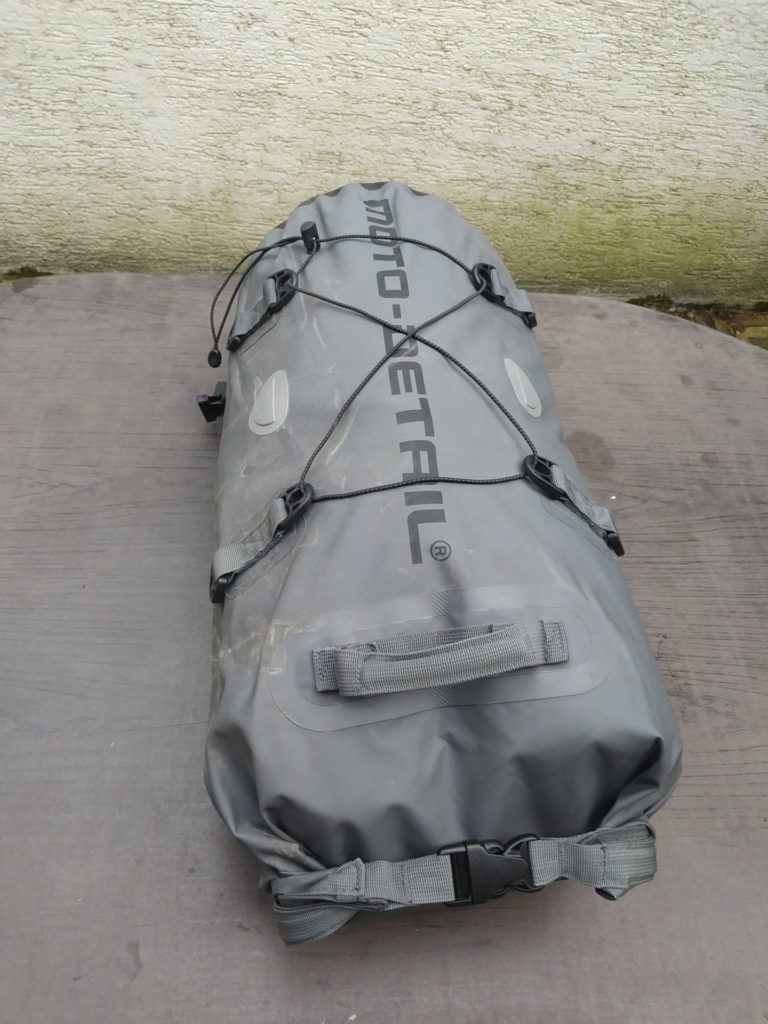 And, Voodoo has got another novelty: A separate lockable tool box.
I used the empty space between the luggage rack and the rear tire to mount a container containing the basic tire patch set and the basic socket/bit cassette. With this I am well equipped for a possible emergency on site, even without a case.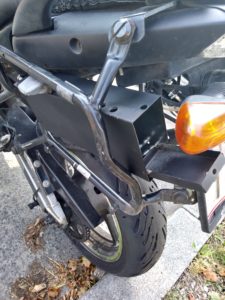 Loaded this way, Voodoo looks like very grown-up 🙂
But, the handling of the Versys 650 doesn't change at all. Admirable, it simply remains an agile bike. Nevertheless, in my travel gear I am more relaxed when it comes to top speeds, strange. (and that even though I have tested my equipment up to 175km/h. It stays fastened. :-0 )
Die Schweizer Vignette habe ich ja noch vom WRWR unter dem Sitz, da brauche ich nichts zusätzlich. So schön die Schweizer Pässe sind, mit den lästigen Geschwindigkeitsbeschränkungen, würde es eine Ewigkeit dauern. Ich küsse jedes Mal den Boden, wenn ich die Schweiz wieder mit dem Motorrad verlasse.
Die Liber-T Box, für Frankreich, landet in der Tanktasche, sichtbar muss sie ja nicht sein, daher ist sie dort am besten aufgehoben.
Ich habe kein Problem damit Etappen auf der Autobahn zu fahren, manchmal ist es das Wetter, manchmal die Landschaft, manchmal auch einfach nur die Laune und manchmal ist es einfach die Sonne – die untergeht 😉 wenn ich mich wieder einmal irgendwo verkalkuliert habe (aber auch das können wir noch gar nicht wissen).


Next, the camelback is filled with the electronics (GoPro, charger, cable, smartphone, navigation system), the train maps, passport, etc… and is therefore my most important possession. Also here additional bags ensure a safe transport in the rain.
But I have a lot of it on my body during normal weather, e.g. the Smartphone for photos, the GoPro on my helmet, the loading pack in the tank bag. But for the train journey it is better that way, the bags stay with me on the bike. I only take one bag with me.
The thigh bag, which I usually use for day trips, is both practical and impractical for tours. Actually always practical, but if it starts to rain, then it is impossible to get the rain trousers over the bag and they are not waterproof (I tried it 🙁 ) Additional bags have no place there -> in retrospect a good decision
Now only Versya has to wrap herself in her motorcycle robe.
As underwear I have a Vanucci functional underwear, for example: in the warm version on me.
I can always take it off if it gets too warm and for the night in train and tent, it is optimal if it gets cooler.
A T-shirt and a functional softshell jacket (in the classic version, hiking gear is also very good) complete the basic outfit. An seperate back protector is a natural thing for me.
On top of that, the motorcycle protection gear, which consists of the proven Alpinestars Andes, which has not let me down in normal rain, falls, heat or cold and which I can only warmly recommend.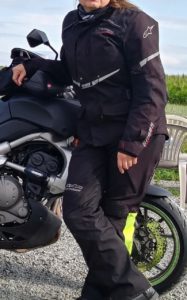 Unfortunately these are – what else! – NOT available in a ladies version. But it fits anyway 🙂
I have my Richa Hurricane handgloves with me, additionally Held overraincoats.
From my experience they are not too warm, not too cold and fit me perfectly. (I even bought a second pair, because I don't want to miss the feeling in the future)
But I'll state this now to be on the safe side:
I don't get any money for any statement here, I just want to present my equipment and share my personal experiences with it. And yes, there is much better equipment, I am aware of that, but the then worsened price/performance ratio isn't worth it.
Equipped like this I can cover the short distance (therefore day 1 😉 ) to the car train.
The loading of the car night train starts at 21:45 and, like a bad omen, it starts to rain slightly when I leave.
But at the car travel terminal at the main station, or rather: hidden between the many new buildings somewhere in the back, it has already stopped raining again and so there is still time and opportunity to inspect the motorcycles of the other motorcyclists.
In total there are 8 other motorcyclists who use the train to shorten their stages. 5 Germans who are on their way back from Romania and 3 Burgenlanders who have planned a tour through South Tyrol back.
My labelled suitcases are a point of attraction and with the destination England (solo) I am obviously quickly a topic of conversation in their groups. Nothing new…
Loading starts at 9:45 sharp. OMG, I should have used the small tank bag. Again and again I feel the helmet discreetly touching the ceiling.
As Voodoo is strapped on I make my way to the compartment. Being there first has the clear advantage of being able to settle in a bit, hogging the socket for the charger and doing to-do's before anyone gets on board.
Now it is time to get ut the most important object of all: My diary. I bought it last year in Scotland and now I'm taking it across the English Channel again.
Without the help of the diary I would not be able to remember all the highlights of the trip in such detail and many things would melt away over the days. At the end of the 14 days, about 80 pages will be tightly scribbled and a rich treasure of memories that would otherwise have been lost.
Right in time a finished my work, as in Linz, a mother with daughter and with destination Innsbruck gets on board.
As it is already relatively late, calm sets in very quickly and it stays that way until Innsbruck.
From Innsbruck I am then in a kind of half-sleep and I only notice at the edge that it is obviously raining outside. Well, the Arlberg will fix that… (hopefully)