This post is also available in:

Über mich in Deutsch: Bitte die deutsche Fahne anklicken
For my foreign visitors: This is a blog about my on- and offroad motorbike adventures.
In a short sentence: A crazy biker chick.  😉
Online you will find me under my Nick: Versya (Sfiftyenko) 
I am from Urkraine (hence Sfiftyenko and not SixFifty), simply because Facebook asked for it.  😉
It all started in 1987 with my first small motorbike,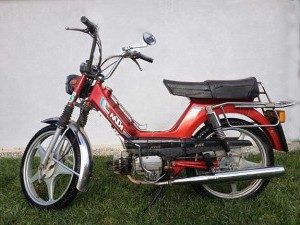 a KTM Duo, 2 stroke, 2 -gear,  50ccm bike.
The first start wasn't really easy.  I still can remember, that it had light snowfall and I had to drive through Vienna during rush hour. A rare thing, but I didn't feel the cold…   😉
Despite this rough start my addiction increased.
I used it to travel to school and at the weekend to travel to our countryside home.
There I did my first offroad trips along the Iron Border to Czechoslovakia (Now Czech Republic), Thus mainly to arouse the guards, anxious following my trace along the fences. 😉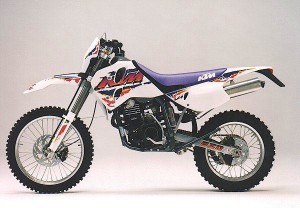 For a short period I got my hands on my brothers LC4. A way to strong bike, but a real fun to ride!  🙂
With finishing school and earning my first money, I switched to horse riding very intensely, as always, when I start a new sport.
This excitement stopped hard with my first child, who was soon followed by a second one.
Life got quite another twist then.
Years later, approx. 2009, my two sons were starting technical school (engineering college), so I found that it was time to regain lost territory.
So I started looking for a fitting bike.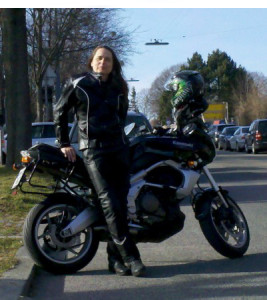 I am tall, 1.80m – not a common high for a woman in Austria,  and strong enough to handle them all, but quite interestingly the search wasn't as easy as expected.
Naturally, there was a price border I didn't want to exceed and a cubic capacity I decided as max  (800ccm) for my own good. 😉
But even then, a lot of bikes where to consider for my purpose: Honda CBF 600, Triumph Tiger 800, Suzuki V-Strom 650, Kawasaki Versys 650, Yamaha Fazer,  BMW's GS  family – the last group (BMW)  were above my price top, even used ones. But, after a lot of tries, i finally found my Kawasaki Versys, the Skull headed one.  😉    Some find her ugly, but I do not care, I like my Voodoo and will probably never change it against the new streamlined Kawasaki front.
From there I evolved my online Name: Versya.
Now, 10 Years and  approx. 120.000 km later, I am still in love with it. We went through so much interesting tours all over Austria and some other countries, adventures, accidents, trainings, I really got addicted.
In the meantime (since 2012, I also try offroad bikes, mainly my KTM EXC 200, heavily, but that is quite a different story)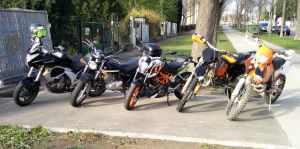 Please feel free to leave a comment or feedback. I would highly appreciate it.
Maybe this will trigger me to do my blog entries in english too, more often?
As the english pages are established via a plugin, unfortunately translation for login links or registration can only be used from the german pages (so, if you receive an error, switch to the german page and try the same link  😉 ) Most secure way to identify yourself as human: contact me via gmail (below) upfront.
Always tarmac below the tires!
Your  Versya
versya.650(at)gmail.com
Versya Sfiftyenko  on Facebook and on Instagram