This post is also available in: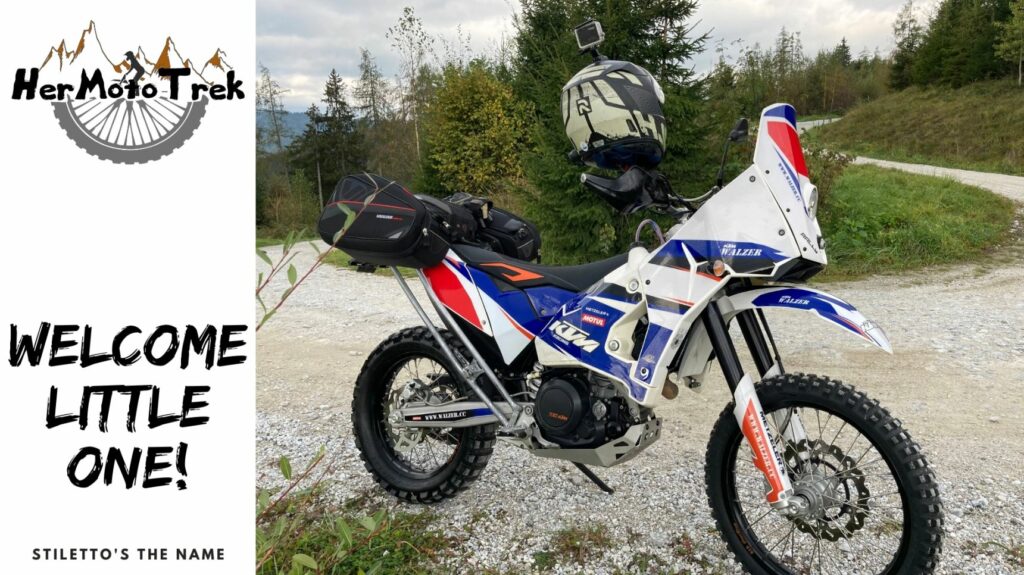 So many motorbikes on the market, new, used and unusable 😉
I suppose my new logo has not gone unnoticed by my readers?
The knobbly tyres are also deliberately eye-catching, and as always, there's a story behind.
So get a drink ready, maybe start the fire in the fireplace, and the journey of thoughts to the knobbly tyres may start.
Where do I start? It's not entirely clear to me where the idea for a more off-road capable bike came from. But there were a few key events that led me in this direction.
This video, for example:
Or my ride over the Col du Parpaillon with my Versys battleship.
But there's also my obsession with getting on my motorbike at some point and just riding straight east or south for months, no turn around.
The nagging question, however, was always: with what motorbike?
It should not be too small, because at a certain age I need more than a toothbrush and a tarp to survive.
It shouldn't have too little horsepower either, 27hp is quite fine for fuel consumption, but with thin altitude air, poor fuel and challenging gradients, it needs to have a few hp in reserve.
Road and off-road capable, and at the same time able to carry a luggage system
Sufficient range on one tank of fuel
Few components that can become defective and are relatively easy to repair.
Low weight. I myself am heavy enough 😉
Good price/performance ratio
The above-mentioned criteria eliminated quite a few vehicles right from the start, but some models did make it into my final selection. Others were a little more – hmmm, generous?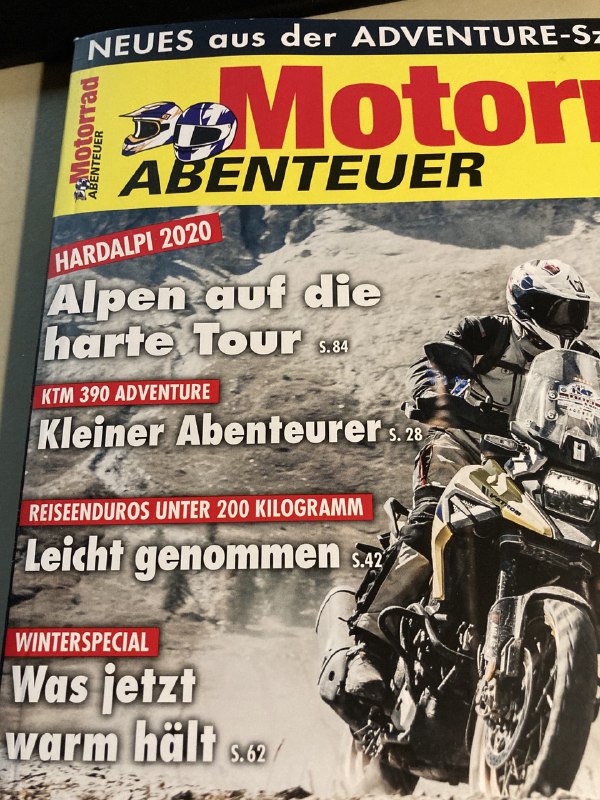 This issue from 2021 would have come too late anyway, but when reading the article I was already puzzled what "under 200kg" can sometimes mean.
Also, the term travel enduro is defined very generously.
I did the math and checked it out:
16 bikes listed
11 lighter than 200kg
7 usable as touring enduros
4 that meet both criteria
of which: 3 are from KTM
SURPRISE! 😉
OK, but back to my list
CCM GP450 Adventure, If they were still around, I would have bought them immediately, but unfortunately not!

Yamaha Tenere 700, Japanese quality, minimalist technology, in terms of weight actually already with the Versys, so unfortunately no.

AJP PR7, Italian quality 🙁 , good design (top), but just the challenge of being able to do a test drive turns into an adventure. There is also no experience of robustness, so unfortunately no.

KTM Enduro 690R Rally, KTM quality – I'll let everyone decide for themselves, it's perceived very differently 😉 The design is functional, but a little old-fashioned. Easy to repair, little frippery and despite 1 cylinder enough power for all situations. Therefore: YES
So now it was just a matter of finding a suitable machine, at a reasonable price, with a rally body.
Actually, it is unimaginable how little these motorbikes drop in price.
Finally, there is a model with a rally body and additional tanks (at the front) in the used motorbike market, so I made an appointment and showed up with my motorbike on site (Bucklige Welt) in full equipment.
The access road to the farm was already a good challenge for the Versys(tyres). So ideal for a test ride with a bike better equipped for it 😉
I was briefly instructed by the owner and off I went. I also got back up the hill well, but on the normal roads I had the feeling that the engine choked every now and then and didn't take up enough throttle.
Since Junior owns the SM version, I brought it back, made another appointment and asked Junior to take it for a test drive.
We were there on time for the second appointment, we even had a canister of 100 octane petrol with us, but the KTM just wouldn't start. I interpreted this as a bad omen and refused a price reduction in a friendly but firm manner (although the defect would certainly only have been a small matter).
So back to the search.
Rally bodywork is relatively rare and when it does happen, you get the impression that the customs fees for the bodywork are also included in the price 😉
But finally, Junior found it: In Upper Styria, somewhere between Neumarkt and Spielberg, there is a 690 Enduro with Rally Raid bodywork, extra tanks included, special decoration and a somewhat strange luggage rack variant, but these would be quickly replaced if needed. The kilometres look good, the price is at the upper limit, but maybe something like: What is the last price? 😉
So I make an appointment and travel all the way to Spielberg.
I came to play and it will be a game. Hello, little one! The way you're standing, you're out of my dream.
Let's see if the rest is also dreamlike or horrible.
The blue board is mounted, I sign all the liability papers and off we go.
It is so easy to handle! Driving is quickly automatic and slowly we grow together.
I looked up a road in advance on Google Maps, which I assume is actually gravelled. Driving on the country road itself is exciting, from about 110km/h the stilted thing starts to oscillate, so off we go onto the gravel track (ditch road):
And, I am not disappointed. Only the signed liability declaration keeps me from testing the tyre grip, the gravel would leave some scratches on the décor. in case of a drop.
At the last bend I park the vehicle with a view of the Zeltweg plain with the military airport and the mountains in the back. Even the clouds bow down and finally let the sun through.
I remove the seat, dissect every section on the bike for damage, also capture the details on photos to send to Junior. Also the chassis number to make a check with the maintenance manual (Tip Top) .
Now I have a problem:
I want this bike! You can see the grin on my face in every photo I take of myself up on the mountain. How am I supposed to negotiate properly?
It's back to Spielberg with a heavy heart, including the obligatory short stop at the Ring.
This time without commuting, which might also depend on the wind direction, and on to KTM.
There the negotiations are "tough". The seller is a professional, he knows what the bike is worth, everything is registered and so I just manage a 6% discount, but still. 🙂
I sign the papers, make a deposit and get the type certificate for registration at the same time. Hello little one!
And, because you're sharp as a blade, straighten your legs like you're wearing high heels and there are still many texts about our adventures to be written, so, there's no better name than Stiletto!