This post is also available in:

We leave early in the morning and head east, more precisely to the Slovak-Ukrainian border at Ushgorod and beyond. It is 10 April 2022 and the information on Bushta (Буча) is just a few days old.
Large organisations do this regularly, so they do have corresponding sources of information. On our side, we had to get a picture of the situation from various (online) sources. Together with our accumulated experience in the Eastern Bloc, additional assumptions are made and probabilities discussed. There was also a meeting at Brunnenmarkt to coordinate any questions.
We have planned two navigation systems and a map as on-board "technology" so that we are not helpless in case of detours and diversions.
Two weeks of planning are behind us: route (with alternative routes), petrol stations, equipment, studying Ukrainian dictionaries and online trainings, fuel calculations, researching at the embassy, determining and creating shopping and transport lists. All this had to be done before we could even start the journey.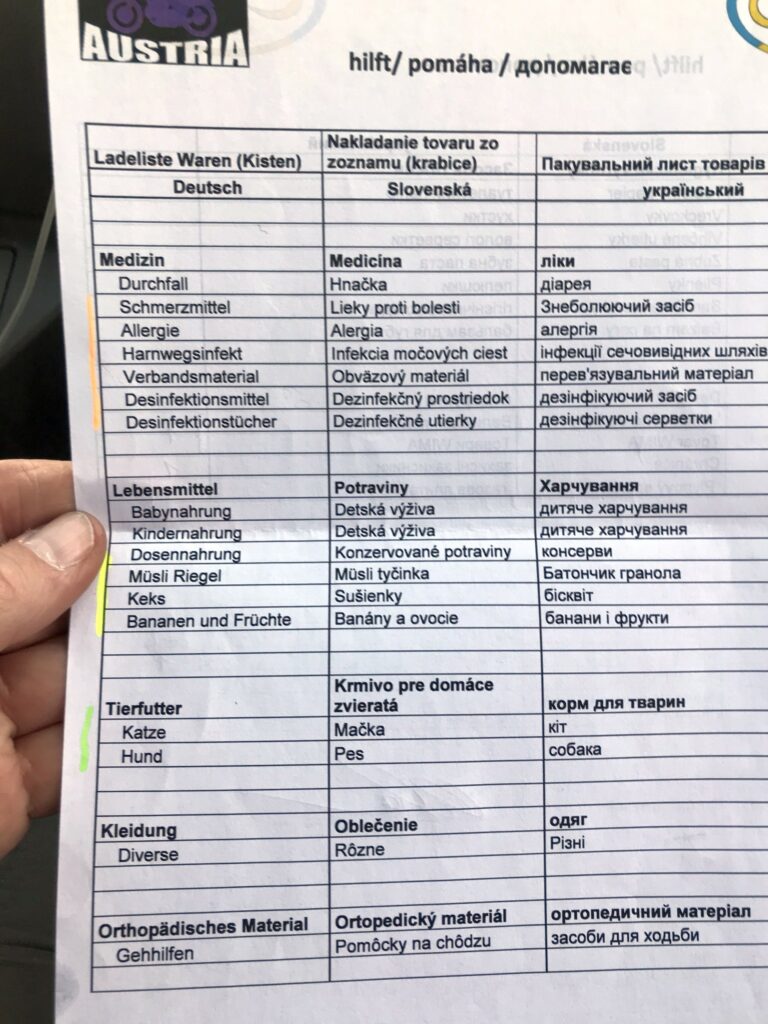 Alena (my Ukrainian counterpart) has already expressed her reservations, but finally "resigned", and WIMA (International) also made an effort to dissuade us from this plan.
But that is impossible. Olpo and I would be prepared to do even more, if necessary.
The trip has other reason too, not only the humanitarian purpose.
It is also a first trial balloon for us to get to know the local conditions better for further actions if necessary.
But first, we really have to get going, and the question is, of course, will we make it? What hurdles and challenges await us? Will we get back safely? Will we come back at all? The testament is written and safely stored at home, to be prepared is all we can do now. The tension is great, everything can be a success or a failure.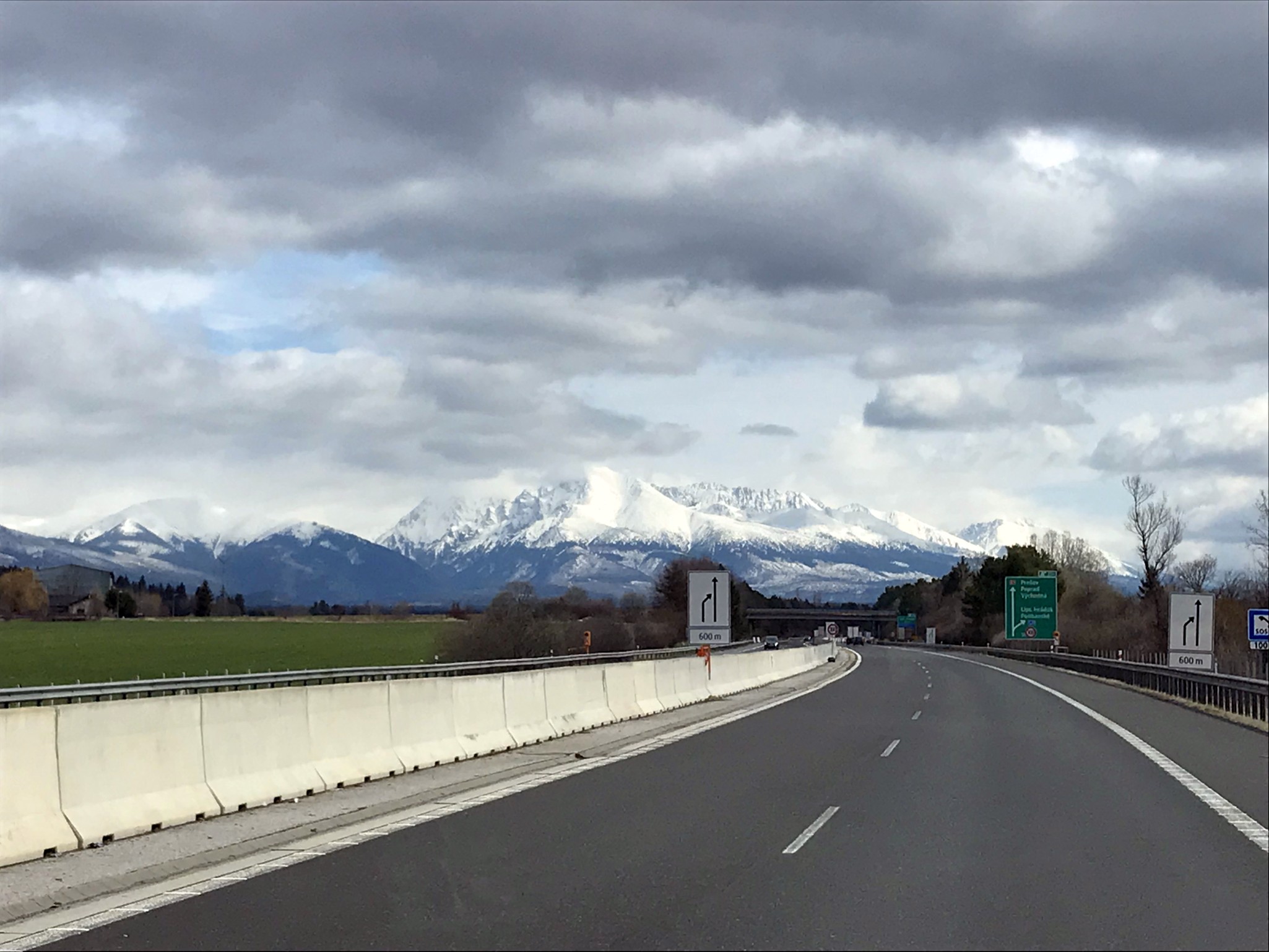 I already know the route through Slovakia from the last two trips to the border, where the WIMA girls and I have already delivered aid supplies and also picked up refugees on the way back.
Olpo, for his part, can get to know Slovakia in the front row of his IVECO van, the transporter that takes our motorbikes, petrol or diesel canisters and partly empty boxes to the east.
Our first real stop is in Michalovce (SK), where we storm the already familiar TESCO and buy food as well as utensils for elderly people. 2 huge shopping rounds later and 2 additional drugstores in addition, the prepared boxes are filled to the brim.  The car is filled up again and then it's off to the border. It is surprisingly quiet on a Sunday evening, otherwise the place is swarming with trucks, cars and refugees, but at the moment it is relatively quiet.
Actually, the ideal conditions for an easy, quick border crossing.
I know the Google Maps reviews of this border crossing. They are not exhilarating and are full of scathing comments about the border staff and the "performance".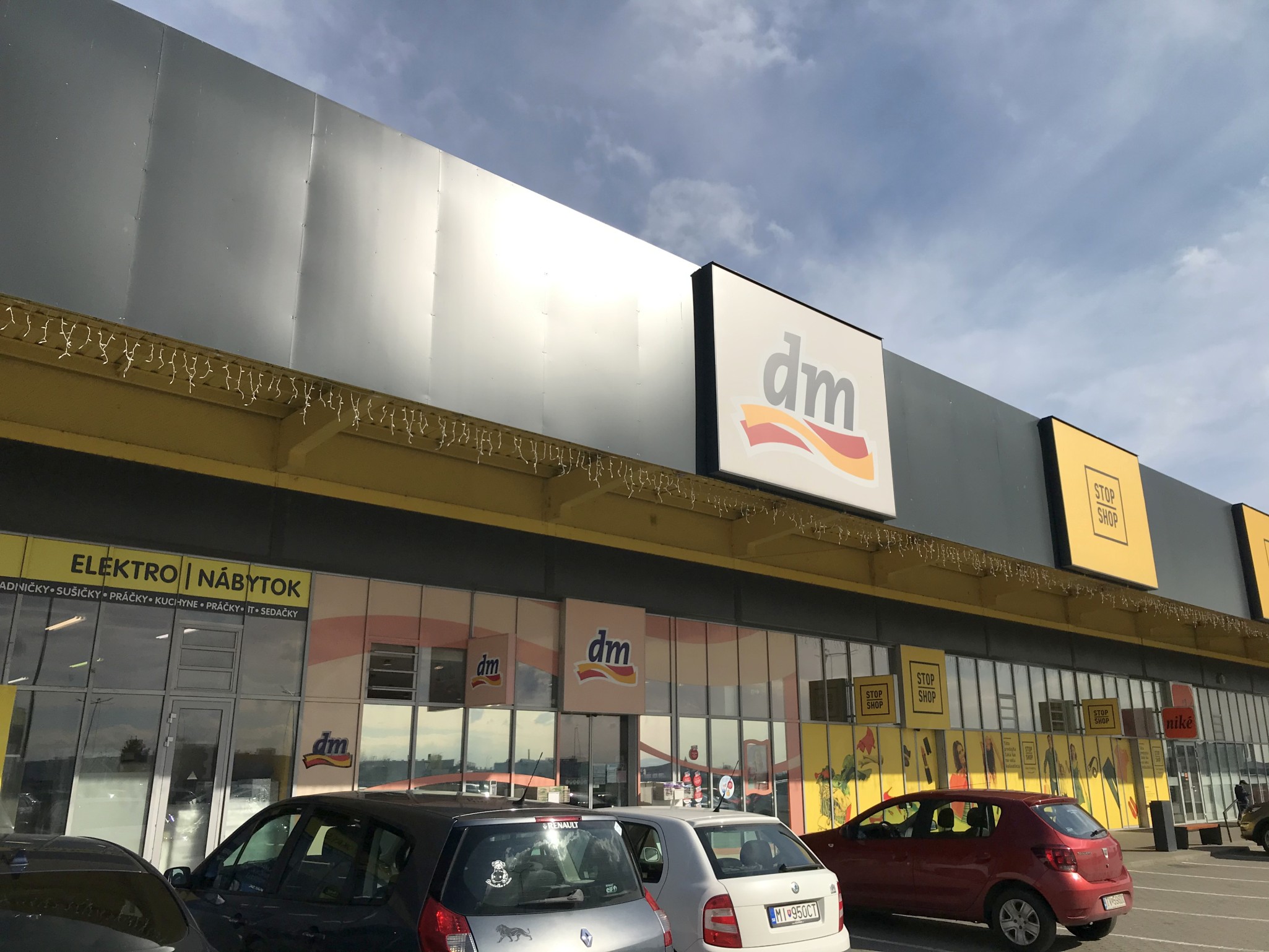 We are convinced that things can only get better today, after all, we are transporting aid supplies to Ukraine.
It starts so simply: First we go to the car border crossing and queue up in the short line. There are only 3 cars in front of us, so it can't take forever. Well, it would have been, but then this bus with 30 passengers appears next to us, and just as many passports, which now come before us. They are conscientiously scanned, stamped, etc… by the only female border official, while her male colleagues are sitting in their armchairs surfing on their smartphones, etc….
So it takes a while until it is also our turn. The relief is short-lived, however, because we are told tersely that aid deliveries also have to pass through customs, so we have to go to the truck crossing!
At the truck crossing, things don't look too bad at first. We drive to the end of the line, only to be driven back to the entrance by a madam. There is an axle weighing device right there that has to be passed slowly. After she has entered the vehicle data. The other way round would probably also be possible, but the rule is obviously the rule.
We need a few attempts until the time and speed are right for them, and with that we get the first docket in our hands.
With this, we continue to the Slovakian border police and customs guard. It is not clear to us why customs are required at the exit, but they know that it is a regulation….
Humanitarian Transport? DA!
So far so good, but at the latest when we open the doors of the car, our two motorbikes catch our eye. The border customs officer's first reaction: Problema!
So we explain our plan in a long-winded way: We drive to Kyiv with the aid supplies and hand them over to a Ukrainian organisation (WIMA-Ukraine) by vehicle and then drive back with OUR motorbikes. After a while they have understood this in principle and want to check it. They check the motorbike data (which is not so easy due to the full van) so that they are sure that the motorbikes really belong to us. The next step is the passport control, and then we are finally waved on.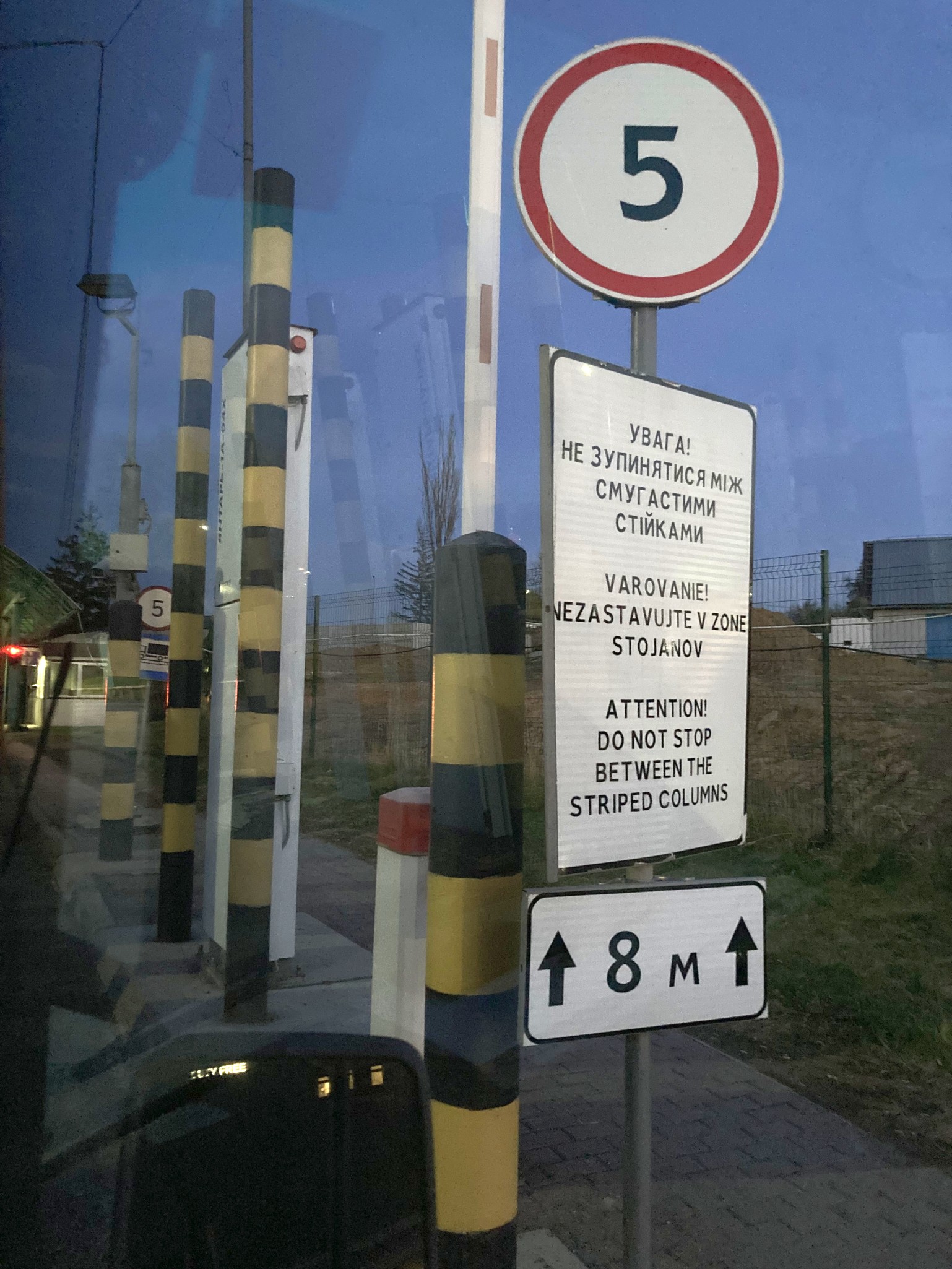 After it took a while until our turn came, and then some time was spent on the explanations and the administrative paperwork, the sun has set in the meantime.
Our convoy of cars and lorries continues to move across the short no-man's-land in order to have the vehicle x-rayed by the Ukrainian authorities, to have it weighed and have its passport checked, and to be sent to customs with a docket.
The Ukrainian customs officer takes a look inside the van and: Problema!
Which was to be expected by now.
Here, too, we need some explanations with our hands and feet (and also Google Translate), as well as a younger official who also speaks English, to explain the situation.
I am directed to the customs building and make my way there with the passports, registration certificates for the three vehicles, the list of goods, etc….
The hall is divided into two semicircles with counters, one side for export and the other for import.
One of the 9 counters is occupied, the MAs of the others sit together behind the counter area and discuss and drink coffee. Apparently, they need to take a break from work so that they don't lose their focus.
When the young officer comes into the building, he instructs the (highest-ranking) officer on the spot about our special constellation and off we go: where from, where to, why, for whom, etc….
Our story apparently sounds absolutely implausible, so we are asked for a contact person on the spot. I give you the phone number of Alena (name has been changed here) and then an exchange takes place on this level as well.
The result is probably not too good, I can see from the young official that something is wrong.
The discussion continues behind the counter wall, by now 5 officers are involved in the discussion. I get the impression that the motorbike and the aid transport are not compatible – but I could be totally wrong because of my rudimentary knowledge of Ukrainian.
The young official tells me to go back to the car, they still have some things to sort out, I should wait by the car.
Olpo has made himself comfortable in the cold car, the temperature is now close to 0 degrees, but at least there is no wind in the car.
After about 30 minutes, the officer waves me back into the house.
I am told that the car cannot currently be donated to a private person/association, but only to the Ukrainian military. If I don't want to do that, we have to take the vehicle (including the motorbikes) out again.
What else can we do but agree, since we want to take the goods we have already bought (and the goodie pack) at least as far as Kyiv.
Our plan to strategically distribute the fuel canisters along the way is obsolete, but we now have a diesel problem. Our canisters incl. tank are not enough for 1700km there and back, it will probably be more like 1400km that we can cover. That means we have a gap of about 300 km, which we have to fill up with fuel. This is exactly what we wanted to avoid with our petrol and water depots along the route. Now we have to find an open petrol station with at least 20 or better 40 litres of diesel. We knew that improvising would be part of the plan, so it was a bad surprise, but nothing more.
But first we have to get away from this border, it is almost 11 pm by now and we are now still waiting for the final completion of the customs papers and the final passport control, so that we can finally get through the last barrier before Ushgorod with our seamlessly filled out routing slip.
Finally the passport is also checked and we drive off, the barrier opens and we are in Ukraine! Nadobranich (Надобраніч), well then good night!
As a test, I want to withdraw a few hryvnia (UAH) from an ATM. The exchange rate is about 1€ to 32 hryvnia and that works at the ATM too.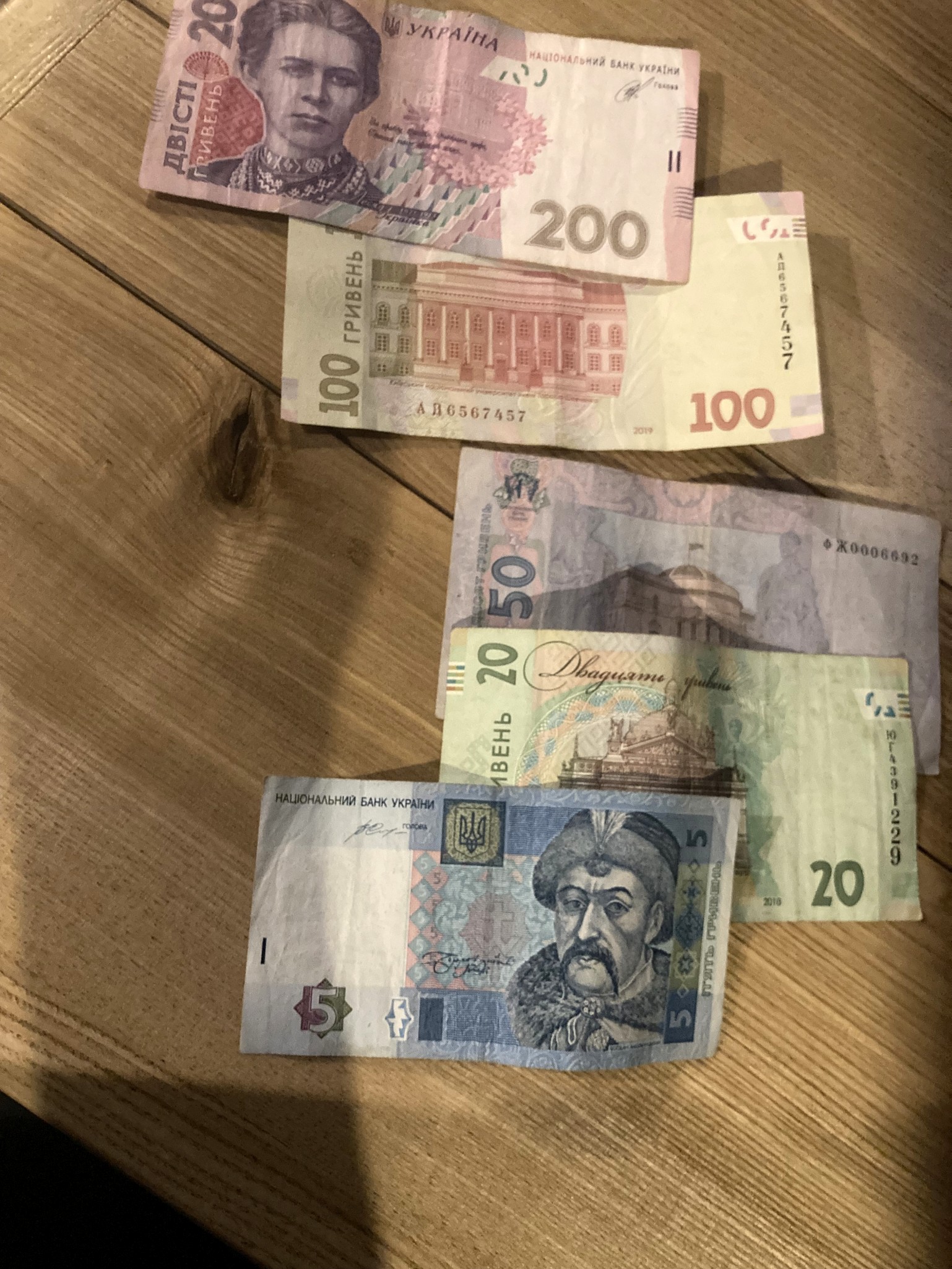 On we go into the dark of night, we want to at least get into the Carpathians to be away from any towns and so we set off. We didn't book in advance because we were aware that the border could mess up our mileage for day 1. Booking.com lets us down, the suggested hostels are either closed or not bookable at this time of day. And so our search for a hostel leads us further into the Carpathians. The sat nav sends us on a "shortcut" to Swaljawa (Свалява), but we give up before we reach the great monastery (Cyril and Methodius Convent) and turn around. The road is one pothole and we want to move our axles and wheels a few hundred kilometres further.
The thought of a frosty night in the van is not exhilarating, and finally, rejoicing, there is still a light on in a hotel (chalet, https://chalet.net.ua/en/ ), a few boys are still sitting in the restaurant and we get a warm room for 1000 hryvnias. I don't negotiate at all. We brush our teeth and finally go to sleep. I have eaten 1! I ate one muesli bar today, but that somehow got lost in the shuffle.
It is 2 am when I look at the clock for the last time. But now for real: Nadobranich!