This post is also available in: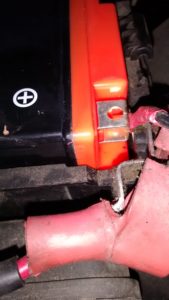 On saturday I exchanged the battery on juniors Van Van, as the old wasn't functioning anymore,
or so I thought.
Unfortunately we found out, that this isn't the true fault.
The Van Van stopped operation after 5km travel and only showed the FI light.
I wonder, whats the reason for this?  I asume it's the voltage regulator or rectifier, but thats still to prove.
At least it worked well with a full charged battery, so  I think, I am right. But I keep you posted.  :-/