This post is also available in:

Today is the event day with motorcycle.
There are 3 groups in total:
One race track training, or off-road training, or BMW rental motorcycles for test riding (T9, 1200 GS, eRoller) As a last alternative, there is also a moor hike in the immediate vicinity for the motorcycle tired participants.
I already had a moor hike on day 1 of our arrival in Janäda, besides I'm here to ride my motorbike. 😉
BMW motorcycle test drive?  No, thank you!  Not on principle.
Then off-road training?  Would be tempting, especially here in Estonia. I'm just afraid that the coaches' expectations are very low and I'll probably fall asleep.
So all I have left is the track. Actually also not bad, even if the Versys is not so the race track device now.  But the idea of getting training from an Estonian state champion is very tempting.
To make matters worse there is a little rain again and the day looks already very grey
To my delight, the track turns out to be a GoKart/Supermoto track and this is exactly the area that an Versys needs to let off steam. Curves!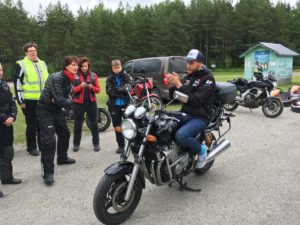 The instructor explains to us the gentle (roadworthy) variant of the hanging off and the correct approach to curves.  There are also a few hats in the curve which are intended as a guideline.
As the track dries up slowly, there is a lot of fun in the corners. The Pilot Road 4 are stable in spite of the curve hunt, which is probably an advantage of the low temperatures in Estonia, otherwise I am used to them slipping in excessive race mode. :-/
However, I don't want to overdo it completely, after all I am on the road in the textile suit tours, and I would also like to go home from Estonia by motorbike. But at least there is the possibility to round the wheel edges a little 😛
The other girls are a little more moderate and therefore easy to overtake. Only the Triumph riders also let off steam and stubbornly fight back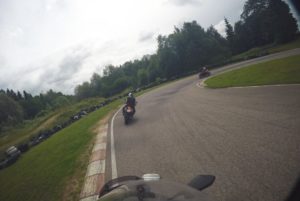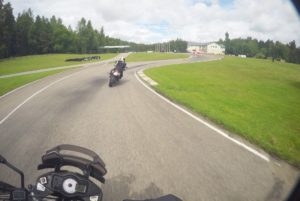 The Tiger 1050 finally has to give way due to a slide on a small oil stain, but Susi with her Street Triple does not let up. So, after a few laps of racing match, only the (random) correct track choice decides the head-to-head race when overtaking a group.
Somehow she must have got wormed, because she overtakes me during the laps just before the exit.  Okay, I forgive her.
The Versys has once again shown what it can do with simple road tyres. I really had a good time and improved the technique again.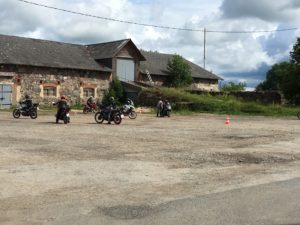 We then drive back to Janäda in the group and still have the opportunity to watch the off-road group training. I must say, the participation in the track training was definitely a good decision 😉
There are still a few BMW motorcycles (from 1200GS to 9T) available for test rides. But, as already mentioned, I'm simply not interested in BMW. It is not necessarily the relatively poor quality of the overpriced machines, it is more the image that is transported through the brand that frightens me. Just my personal opinion, mind you. 1000th buyers can't be wrong, can they? 😉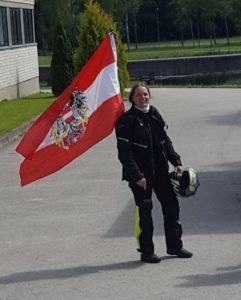 Instead, I take the flagpole and our flag, assembled yesterday, for a ride in the surrounding area to test the stability of the construction and its effect on me.
Up to approx. 70km/h it is ok from the train of the flag in the airstream, afterwards really uncomfortable. I definitely need to think of an improvement for tomorrow's parade.
Su is at the presidents dinner (she represents our Wima-Austria president Jane) and we make ourselves comfortable in the stallion stable again.
The last days I noticed that there is also a 1st floor, but so far I have not been able to visit it. Today I have time to look up the stairs.
And, surprise! Here hides a craft shop, which offers all kinds of clothes and souvenirs made of wool, felt, wood, etc…..  I'm almost in a shopping frenzy. The goods are high quality and relatively cheap, and so winter socks, 2 caps, a vest and Schaaf are purchased.
If you now wonder how you dress with  Schaaf,  then you are unfortunately mistaken. Schaaf is actually only a sheep of felt. Since it is small and handy, it will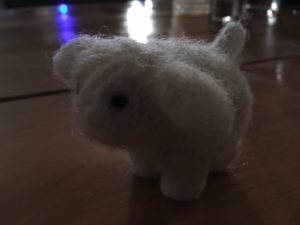 accompany me on solo trips in the future.  Where does the name come from? In reference to an Austrian motorcycle "artist" I will call it, slightly alienated, Schaaf. 😉
The good mood is dampened a little after Su's return. There must have been some controversity in the presidential round. They say there'll be another discussion tomorrow after the parade.
So this day ends with food, music and some open questions.