This post is also available in:

I visited the Vienna holiday and car exhibition yesterday! 🙂
The main reason was, to receive more information about Estonia and to talk with a travel agency about the most interesting places to visit.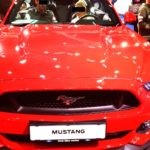 But, unfortunately nothing to find about any baltic country. Not only a single exhibition stand had information about them, on the other hand the whole world was represented. From South Africa up to the Arctic, from England via Mongolia and Japan to the USA.
But, as I was there already,  and –  with the exception of the Ford Mustang Cabriolet – I wasn't interested in the parallel car exhibition, I used the opportunity to collect information about other countries next to come.
E.g. Romania, planed for 2018?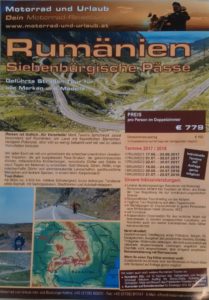 Romania had a huge stand, and there was really every aspect of holidays covered, even motorcycle tours!
There were lots of different tours offered, some on road only, some mixed, and few with gravel roads only .
One of the prepared routes you will find enclosed on the left, it seems resonable priced, don't you think?
Though, nevertheless I prefer to travel in small groups, or at my own, always willing to change the direction, if an interesting crossroad offers a different experience.  😉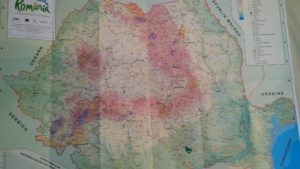 But, now I do have a rough map for the first planning too.
For more details i wanted to fetch some cards from  Freytag & Bernd at their stand, but unfortunatelyy no motorbike related maps, or further brochures were available.
According to one employee I will have to visit the store, or the     Online Shop later. From my experience it is a lot more equipped with books and maps  too.
As I were already at the south eastern area I checked for Bosnia and Herzegowina as well as Montenegro related information, because Svenja (from Germany) had mentioned this countries as one of her next targets and I got curious.
From my first glance, I must tell, the countryside looks a lot like Armenia, but closer to Austria . Maybe a good training ground for more, probably?
These countries offer a rich cultural heritage over the last 2000 years and untouched landscapes, sounds interesting, at least.
As it seems I really will have to focus on a new bike with spoke rims. It couldn't be harder than the iron mountain, could it? 😉
[huge_it_slider id="18″]