This post is also available in:

Day 5, Tour Wima Rally 2019
You may forgive me for this days title, which would fit well with yesterdays program, but today it will actually be a long day. Why? Please read for yourself!
At 6:40 a.m. is wake up call. I put the gear on and stow all the other stuff into the bags. It is the daily todo now.
Coast in sight and the ferry gropes its way past BROWNSEA Island and further on to the pier at the ferry terminal.
As a girl scout this is of course a memorable place, and so I have to take at least one washed out photo in the rain.
It is 7:30 (local time) when I start the navigation system and leave Poole towards Plymouth.
On the way is Bovington, the camp where Lawrence of Arabia served his time as soldier, and was involved in a traffic accident with his Brought Superior on the way from the post office and died.
I find the camp and the road, but otherwise I can't find a trace of a clue, so I drive on again immediately.
This time I continue without rain, passing Exeter south and on to Plymouth. Arrived  there it is time to get in contact with Elsbeth.
I understand only pickle, and I am a little confused at first.  But somehow I guess the final destination, which of course is not listed on any GPS map. Google Maps, at least, shows me the potential destination (EU Roaming for the win!).
I just put the next navigation point nearby, hoping that there is a direction somewhere.
But first I have to look for means to cross the bay, driving around the bay would simply take too long. But it is questionable if a ferry is still sailing with this swell and the wind.
I am lucky and catch a brave ferryman who takes us across the bay to Torpoint, after all only half the bay to drive around.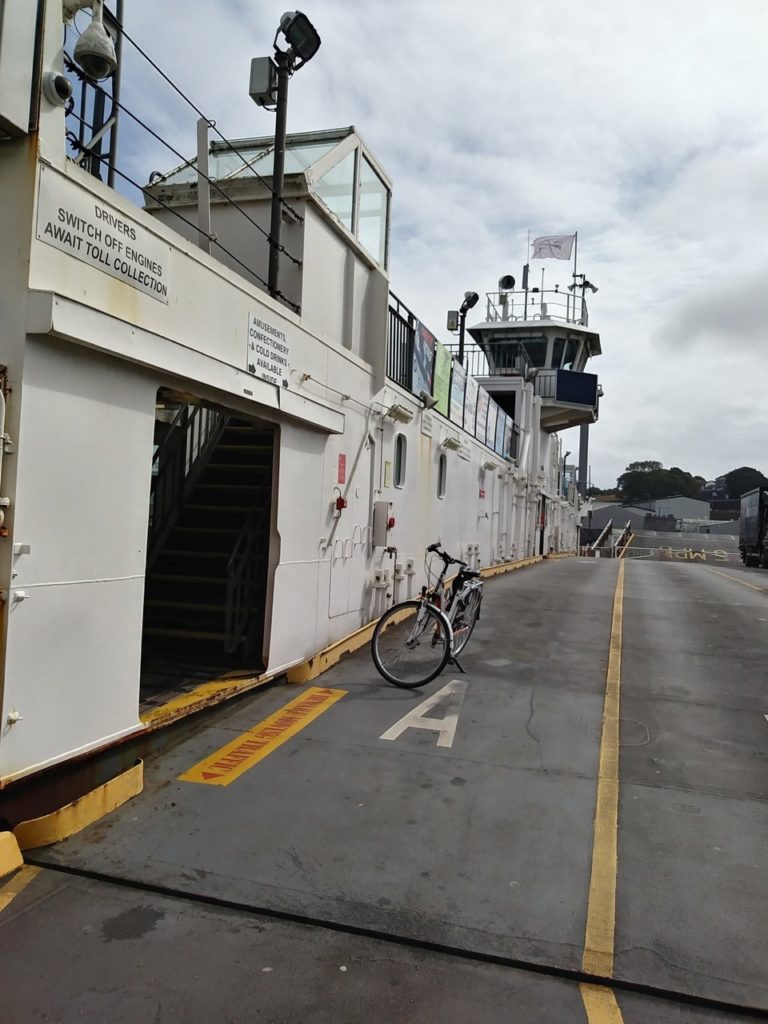 I continue to Milbrook and from there it is still a way over very small paths until I really come across the hidden domicile at the coast.
It is a former coastal battery that has been converted into apartments and offers a wonderful view of the sea.
Elsbeth is together with Liz, a passionate sailor (and motorcyclist – what else 😉 ) so such an apartment is very suitable. It's a hearty welcome from both, and we are having our tea at the balcony.
Despite the rough weather it's a wonderful view over the bay.
To add to the cliché, a snack bus arrives at the pier at lunchtime and offers fish and chips, conventionally tucked away in newspaper.  I am invited by Elsbeth and enjoy the meal.
The quality is very good, but, well, it is still fish and chips 😉
We talk about a lot of things; in between we trail off towards the Poldark Series (the 2015 Poldark! With Aidan Turner and Eleanor Tomlinson). The expectations on Cornwall are rising!
At around 14:30 I leave again, of course much too late.
Nevertheless, I still want to reach three important destinations today.
The first one I reach after about two hours of driving: Marazion!
The little town is nice, but really important is what lies on an island in front of the town: St. Michael's Mount.
Yes, right here there is another Mt. St. Michel!  A little smaller, but also very attractive (to be photographed from a distance).
The dramatic background already shows the further weather, and so I leave right away to reach Lands End about 30min later. The parking lot would cost a bit, but I am allowed to drive up for free and park in the first row.
From here I make the last 100 m to the coast. The wind almost blows me over. I film a little, but the smartphone is almost ripped out of my hand.
But, here is still a leg to do anyway. After a last look in the direction of America, I turn around and drive a little bit back before I turn north again.
Somewhere around here a part of the locations of the Poldark series must have been recorded and I really want to visit Wheal Leisure (Mine of Pleasant Work) in reality Wheal Owles in Botallak.
I drive every meter to the mine, the last part actually already on a trail and enjoy the fantastic coastal panorama, the play of the sun on the sea, the old building, which resembles 1:1 the film pedant.
I am taking the photos and capture the scene for me. I also see another building, in the distance, that could well be Grambler.
Suddenly rain sets in again. It came so suddenly and abruptly that I romp around putting on my raingear again. This routine is quickly done now. 😉
A rough calculation shows, that it would be about 3 hours, or 200 km, from here to Barnstaple, but my luck has left me. Neither in Barnstaple nor on the way there are campsites that report free places. Only in Minehead a camping site would be available.
Hmm, it is now 16:00 o'clock and there are almost four hours predicted to this destination, that's a cinch. I fix the Navi on the fastest route and off we go.
Somewhere at the beginning of Exmoor Park it gets dark. It turns out that on these paths and in this weather there is no normal average speed to drive. Meanwhile, it is clear that I will not arrive in Minehead before 21:00 o'clock and that wet to the skin. Therefore, I look for a hotel in Minehead under the cover of a small gas station. I set a new course and continue through the much praised Exmoor National Park, which I can't see anything of in the dark. In addition to the rain there is fog incoming, and the temperature is still dropped to about 13°, and I am going on.
I don't know if you have experienced this already. But there is a point where it doesn't matter anymore and you just drive along and unwind kilometers. A breakdown, or a failure of light or navigation system, and I am stranded. But I dismiss that thought, I trust Voodoo and my tool and spare parts box and just carry on.
The A396 is certainly a wonderful route by day, but at night, with rain and fog, the many curves on the narrow road, lined with stones and hedges, are a nightmare. My calculated average speed drops relentlessly to the bottom and the arrival time wanders backwards.
At about 21:30 I see the first lights of Minehead and at 21:45 I am in front of the Duke of Wellington in the center of Minehead.
I brought a souvenir from Cornwall, Devon and Somerset!
pprox. 1l of rainwater collected and nicely distributed in both boots. Never again without gaiters!
The hotel is heated! And there is a stand fan in the room for the cozy summer days.
Hmm, I do wonder, don't we have the beginning of August?
I'm building up a nifty drying station in the room with the fan and the radiator.
Now it's about 10:30pm.
Behind me lies a > 15 hours day with about 650 km driving distance on mostly very small roads and with a 2 ½ hours break in Plymouth.
5 hours of it I have been in heavy rain, at about 13° on the way,
another 4 in light rain and strong crosswind.
The rest was only windy.
Now I fall, without dinner, only with the obligatory tea in the room, just fall into bed and am immediately gone.
Weather: Rainy, cloudy, heavy rain, all day strong winds
Track: Approx 650 km