This post is also available in:

The long evening at the big tent does effect our sleeping routine, so we did get up rather late.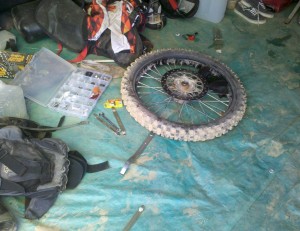 As Juniors front wheel still looses some pressure, we decide to change the tube completely. Not an easy task, considering the everywhere dust . And, having the tools already laid out, I did dismount the left front fork, to repair the lower gasket, as it was leaking.
In this environment a horror, but still, a necessary task.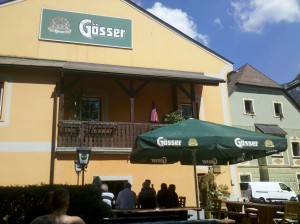 To move out of the increasing heat (approx 30° C), we did decide to relocate down to Eisenerz, to get some "real" food for lunch.
We spot the Bräustüberl, and after spending there some time in the shadow, we really can recommend the food there.
After Lunch, we did a little nap, but short after,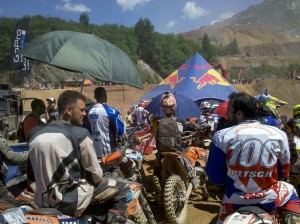 we prepared our selves for the second prolog race.
As always, queueing at the prestart area. But, only 1 1/2 hours later (in complete harness), the race starts for us.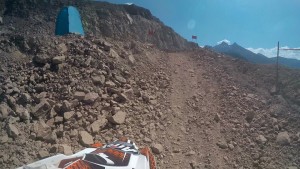 The track, now even more worse, was really hard to tackle.
As I did want to keep my 5th place from the first race, I kept a higher pace right from the start.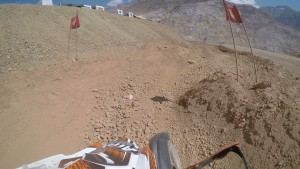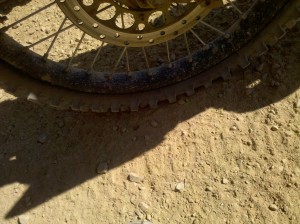 Unfortunately, a flat front tire, at approx. half of the track, didn't help.
Even worse, high speed is now only medium to slow speed. And so, I loose more than 2 Minutes on the track.
In sum, I shift down to the 6th place, unlucky, but not to bad, as the first 4 woman riders are all Pro's.
So, I really can be satisfied with the result, can I? …  –  honestly, I am not  😉
After a very slow return to the tent, tube fix again
as it seems, i would be a really good mechanic too. 😉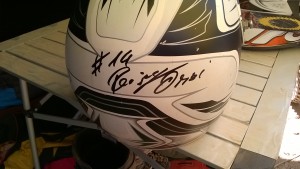 As small satisfaction we receive an autogramm from Ossi Reisinger