This post is also available in:

OMG,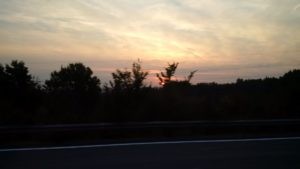 yesterday 10 hours riding and today at  5:45 am I am already on my way down to hungary – again.
This time with my transporter. Its simply easier to carry all the racing stuff, water, and the heating is a plus too, as this early morning is freezing cold….
Naturally, my navi cheased to work right behind the border (i traveled via Közseg) and so my brain had to recollect meomories from my last trip from Ostffyasszonyfa – what a name, but easy to remember – to find my way down to the panonnia race circuit  🙂
I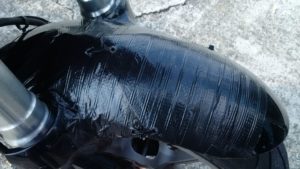 arrived at 7:45, at the circuit, registered, listened to the drivers instructions, let my bike check for the technical approval (naturally all lamps, even blinker had to be coverd, naturally the rear foot pegs had to be fixated addtionally, naturally the mirrors have to be removed, , but the temporarely fixed front fender didn't matter  😉 …..
Oh, well I must not understand this, do I?
At last, I did put the transponder (15,- €) unter my seat. Right in time for the first start of the day with the rookies group.
Fortunatelly ,the dressing went easier than the last time, maybe the great food during the WIMA Week didn't help the last time?  😉
The first round was real fun, and so I wanted more , already 2 Seconds faster than last time. 2:45:xy
During the break I met  Beate Kloda – from the Austrian Motorrad Magazin and Isabella El-Mohr – from the Safebike event.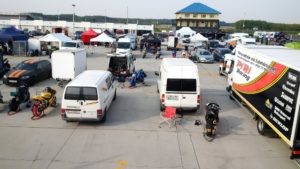 Its fantastic to feel Beate's  enjoyment growing from minute to minute. She was certainly born for this and her test bike, a Suzuki GSX-S 1000  looks real bad ass too! :-0
Isabella wasn't quite as pursuing, but between all this testosterone  guys and rookies its hard to concentrate on the own track without beeing stopped cold, by some crazy rider :-/
From my point of view, fun is everywere. As my Versys is clearly not the right bike – oh the looks of the guys – for this kind of a game, its even more relaxing to know, that i can only win.  😉
At the break I also had time to take some photos
The mood in the camp is really relaxed and all the "mechanics" screwing on their bikes are feeling themselves as kind of small MotoGP for sure.
Finally, its our turn again and this time I try hard to keep pace with Beate and follow her track as much as possible. Its easy in the warm up round, but after this, she is up and away. So fast i couldn't even blink, so fast this can happen 😉 .
At least, I still remember the most important part: Try to corner as late as possible (same with brakes), keep the corner tight and start soon to accelerate again.
I tried this procedure for the next rounds, and yeah again 2 sec. better than the last turn.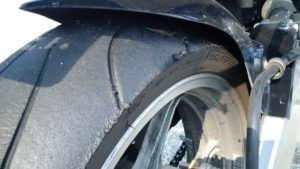 Ok, with this pace, its only further 15 turns to go, to achieve a time around 2:11?   😉                                                                     And my tire looks good too
lol, theoretical statistics are really clever…….
But, the next turn, after the break was surprisingly better, but this mostly due to some additional motivation: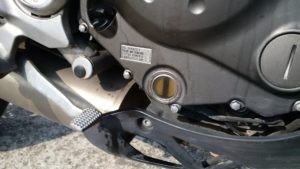 I started behind the two Ducati Monster riders, and, as I had refilled my Versys oil reservoir with nothing else as my available diesel engine motor oil, I wasn't so shure if I should rev as high as before.
😉  But from round to round the Monsters accelerated more and more, and I kept pace.
Finally I wanted to overtake them, but a breaking mistake from my side brought me back to the roots again. and now, I was really motivated!  🙂
From there on the racing was incredibly motivating and overtaking took place a lot after the first long takle with the monster.
My time isn't so good still,  2:38:xy, the line of track not perfekt at all, but the pure fun was totally worth it and I learned a lot.
eg. even stripped foot pegs can scratch….. 😉
after this I decided, I should stop when its finest and so I packed my gear and the Versys back into the transporter and started my way home, still a smile on the face. Seeing you next year again, for sure…