This post is also available in:

For the 4th time, the meanwhile well established Ladiescamp, founded by the motorcycle magazine Austria, took place, on the last June/July weekend The venue: The Wachauring in Melk, which houses the Supermoto race track as well as the ÖAMTC's driving technology centre.
The participants: Female Motorcyclists from Austria and Germany, who have not shied away from the sometimes long journey (Tyrol, Carinthia, Frankfurt). And so, once again, both days were fully booked with 100 participants each.
It is always a pleasure to see the enthusiasm of the participants.
In the murderous heat on both days (somewhere between 39° and 41°, and that in full motorcycle protective clothing, it was impressively shown who the weaker sex really is. 😉
The Ladiescamp 2019 had the following stations to offer for us:
– Braking and cornering technique incl. elimination for the competition "Austria's safest motorcyclist".
– Fun Park and Track Race sniffing
– short laps with exotic vehicles
– Travel and Safety Clothing Workshop
– Trial and Offroad
– Picking up and manoeuvring a motorcycle
– racetrack
– and, the very special extra goodie: test driving current motorcycle models in the near surroundings (unfortunately again without Triumph, Aprilia and this time also Harley Davidson)
The build up was already on Friday,  I was of course on site again to help out a little,
and the Wima-Austria and the WRWR banner were prominently placed.
The weather forecast for both days was fantastic, almost too fantastic. On Saturday it was 38° and on Sunday the temperature reached a fabulous 41°, on an asphalted terrain, no shadows. The motorcycle outfit, it couldn't be that thin that day.
The Ladiescamp is rich in various stations, and this time it was also enthusiastically taken up by the participants. It was uncanny how much energy, fun and joy could be seen throughout the day. In the evening there were the first signs of fatigue here and there, but the majority remained upright until the last station.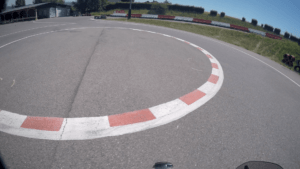 Fantastic result of the 2nd day: Petra Oberger, won the preliminaries for the competition of Austria's safest motorcyclist and will participate in the finals at the end of August!
The rest of us, will cherish our experiences and are already looking forward to next year.         https://youtu.be/Xcr8ZDl9KFE