This post is also available in:

Wima Rally 2019 Day 9 13.8.2019
The treasure hunt continues!
Since we couldn't complete all stations left and right of the way back yesterday due to the advanced time and Hanna is taking part in the alternative program Road Security and Blue John Cavern today, I'm going solo again.
No rain from the start! A premiere after the last 7 days!
First I go to Chesterfield to find the church with the crooked and twisted spire.
Actually easy, because the tower is already visible from a long distance and I just have to be careful not to lose sight of it. Directly in front of the tower it is hard to find a parking place even with a motorbike, and so I take a picture of it from the hip.
Like all medium-sized cities it offers otherwise only little worth seeing, and so I set off, further south, again towards Chromfield and Wirksworth to answer further questions.
On the way back I find Eyam (Plague Village) which was terribly affected by the plague in the Middle Ages. The museum and the whole village are worth a visit. When buying the ticket I am routinely asked where from, where to and Austria of course triggers another flood of questions. The museum is bigger than it looks from the outside, and so I spend about 90min looking at the exhibits and reading the explanations how the inhabitants deliberately insisted on a quarantine in order not to infect their neighboring villages as well.
As it currently looks, some of these measures are still useful today, in the here and now.
I do not panic about Corona, I even find the virus – even though many might want to beat me now – positive, because it is a wake-up call without wiping out all of Europe at once.
Don't get it wrong, everyone who dies from this virus or its consequences is one person too many. But realistically, a really lethal virus would have caught us cold.
The sins of the past:
To outsource or sell the production of important products abroad (e.g. medicines, medical products), but also to buy rather everyday goods from abroad takes a terrible revenge.
To cut costs on military spending and stop having emergency military beds, now are a drawback.
Who would have thought 4 weeks ago that an EU country would no longer supply another country with medicines and medical goods. Because there is a potential massive national need? Well, who?
In this sense we (better the politicians) take this as a wake-up call to review their pandemic plans and possibly take long-term measures to produce important goods in the country. We will not get a better emergency "exercise" like this a second time.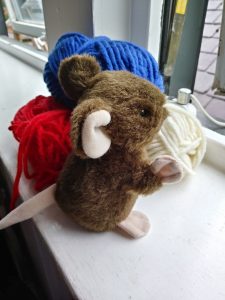 But back to the plague and its effects. At that time ¾ of the inhabitants of Eyam became victims, but the neighboring villages could breathe a sigh of relief due to the consistent quarantine and participate in the reconstruction of Eyam.
At the exit I look for a souvenir and find a plush rat! It looks much too nice to just take it with me. Only when we agree that it will be called Plague in the future, it is allowed to join us on the further journey.

Now all it is needed is Chatsworth House and then the Great Puzzle Rally Round through the Peak District is over again.
Chatsworth House is a "small" palace, embedded in a wonderful park, water games, etc… But since I know that this is also the end point of the rally, I don't stay too long, because a few questions (in and around Castleton) are still waiting for me.
The very, very highlight of the day? No rain suit necessary!
There were 2 times of  very short showers, but in such harmless quantities. Therefore the weather was almost only sunny and almost warm.   Will it be a sign?   Doooooh 😉
As a special Treat the questions (and answers) of the treasure hunt questionaire. (Be careful, it got wet, so drippping is possible 😉 )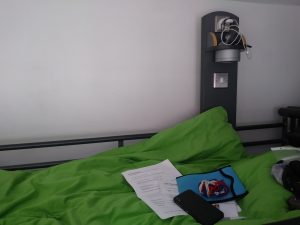 In the evening the meeting of the national presidents and officers of Wima takes place.
In sum it lasts from 15:45 to about 22:00 o'clock and after that there is some small talk.
At about 0 o'clock I am in bed.
Weather: 6°-17°, mostly sun!
Distance: 200 km
Landscape: Worth seeing
Traffic: little