This post is also available in:

I am standing in front of this massive ramp and they want me to go up there….
this couldn't be real, could it?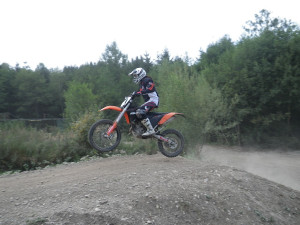 Naturally I hit to much gas , thats why I did "jump", but it happend by accident, I swear….
But, this will stuck with me, to much gas always kind of happens 😉 …..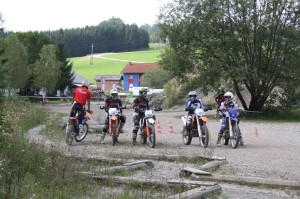 We, thats four girls from half of Austria, we have met here in Ampfelwang (upper austria) at TerraX- Dream for the Ladies Day.
Why am I here? Junior owns his KX 85 for a few months and it looks kind of simple and fun to drive through rough terrain.
But, only if you can…..
I sweat a lot – certainly only due to the heat of 37° centigrade – and not due to the harness we had been put by the trainers.
For training purposes, we try, at slow speed, to make a slalom run between obstacles, through bends, circles, zig-zag paterns, etc.
Everything very basic and still we are fighting for balance, high of the seat, power of the engine (I do ride an KTM EXC 250-f) and everything else.
But, we are tough, we are talented – uhmmm, does he tell this to everyone? – and so, we proceed to much more demanding obstacles.
And, that is why I now stand in front of this ramp, perhaps 2 to 2,5 meters high, looks steep from below …, but, there is nothing to loose -besides honor – and, actually, wasn't this my idea?
So, eyes wide open, hit the gas, fix the target line and up, up, up.
Yahoo, kind of flying (if only for a very short period) .. there are the bushes, so hiting the brakes and turn around…..
Hey, thats gay 😉 we will have to work on that…..
Ok, I think i will go for my own bike…….