This post is also available in:

Day 13, 17.08.2019, Wima Rally 2019
Au
Departure, the day has come faster than expected.
I get up at 6:45 to pack the rest of my luggage and have the last English Breakfast at 7:00.
If I hit the right spot, I probably won't need anything to eat all day 😉
Everything works out perfectly and so I am already on time to put on the raincoat. What else? ;_)
Castleton says goodbye to us exactly the same way as we had the chance to experience it over many days.
I have worked out a route that leads me past Nottingham and Sherwood Forrest to RAF College in Cranwell. The college has been used to train pilots since the beginning of the Royal Air Force.
And I would like to meet a person there whom I have known virtually for about 15 years but never had the opportunity to meet in person.
Since he also rides a motorbike, I would have thought that we would meet in the Peak District, but a short transfer flight to Scotland and the persistent rainy weather prevented this.
The weather became meanwhile very good, Lincolnshire is probably not Derbyshire and thus nothing speaks against planning the small detour and stop on the way.
So I enter Cranwell, left and right venerable barracks and parade grounds, here and there a decommissioned airplane. How am I supposed to find someone with this size of facility? I try to reach him by telephone, but unfortunately he does not answer.
So I drive up to the main guard station.
Why I try it at all is beyond me in hindsight. This is not the Austrian army, this is a professional army.
No Madam, there is no person with that name,
No, I cannot look up any directories,
No, I cannot call Squadron xx office…… terrible sorry, madam….
Eh klar, here comes an Austrian and wants telephone data of a high ranked officer? No chance. 
So I send him another SMS, pack up disappointed and drive on towards Cambridge again. So fucking close.
About 30min later I have to stop again due to rain to put on my gear again and there I look at my mobile.
There is a SMS from him! He was in a briefing and would be available now. We agree to a pub in Wansford (Haycock) near me and so I make myself comfortable in the courtyard of the honourable building with a lemonade.
It takes about 45 min and then I see him coming into the courtyard.  I already know his appearance from the RAF video and I am the only guest in motorcycle outfit, so we find each other easily.
We chat lively with each other. So I finally get to know a little bit more about him and his work at the RAF and he about me. So I also learn that he will retire in the next few months, together with his training squadron with Tucano's. After that he plans a trip around the world to visit his family scattered in the Commonwelth. (That this will not be possible in 2020, we could not know then) Time flies.
But the ferry in Dover waits and near London traffic jam is to be expected. Therefore I must nevertheless further, I still want to reach them.
We say goodbye and I now really accelerate to catch up the time again.
The closer I get to London, the more traffic is expected.
Stapleford is on the M25. I keep on cheating myself slowly despite the side cases, but in the end I lose a lot of time until I cross the Thames via Dartfort Bridge.
Behind it the next "surprise": The M2 is closed and therefore I have to take evasive action over the M20.
Shortly before Dover there is a traffic jam again. It is now 16:30, so I use a gap to take a detour to a gas station to fill up again.
When I arrive at the ferry port it is 5 to 12, the current ferry leaves in 5 min, the next one in about 60 min.
Either it's the unusual heat of the sun (which is shining again quite violently in the meantime), or it's just a calculation error. But I calculate 90 min crossing and 1 hour time difference TO my favour!
So I don't rush to the ferry but decide to wait for the next one and then drive on relaxed from Dunkirk.  I finish my diary, read a little book, watch a Spitfire (clearly recognizable by the shape of its wings) flying along the channel, and so I realize only sometime on board that something is not right at all. It is getting dark … and I am heading east …. OH MY GOD, I lose an hour!  To make matters worse, a heavy rain is back again.
I booked a room in Ostend from Dover. All the campsites from Dunkirk to Bruges were fully booked. Obviously the weather was better here in the last days and it is weekend.
i.e. I have to drive about 50 minutes after landing in Dunkirk.
Therefore:
18:00 departure in Dover
 Arrival at 20:30 in Dunkirk (local time)
Arrival in Ostend at about 21:30, yay well before 22:00, but this day will be even longer than my day in Cornwall.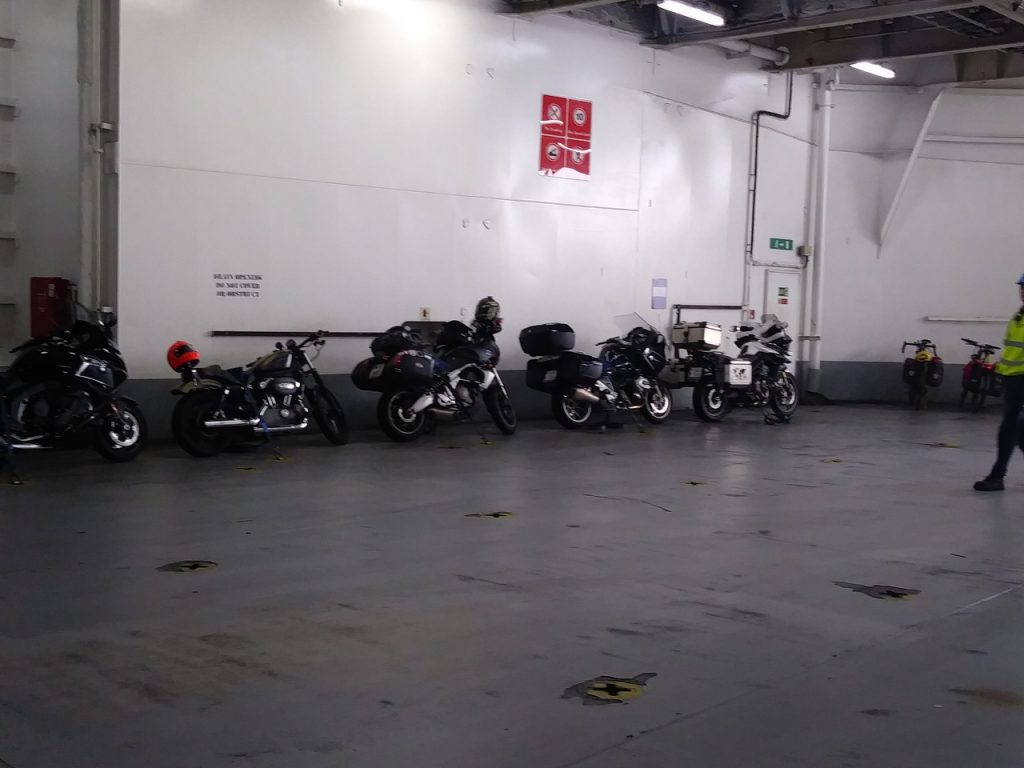 The ferry docks and I romp off the ferry. Thank God I follow 2 Belgian motorcyclists. Otherwise I would have gone left at the first roundabout!
They also take the A16 and I follow them all the way. At least the rain stops very fast, but the cold is uncomfortable enough to leave the rain gear on.
Tired I find my hotel in Ostend and at 22:15 I am already in bed, including a very warm shower. I left all my luggage at the motorcycle and only brought the most necessary things to my room. Even the Navi stays – unintentionally – on the motorcycle.
Weather: 11°-16°, raining, sunny and warm and rain
Distance: 580 km