This post is also available in:

Breakfast at 8:00, sharp, at the terrace. From the terrace there is a beautiful view over Arnfels to the border hills of slovenia and in direction to the Weinstrasse.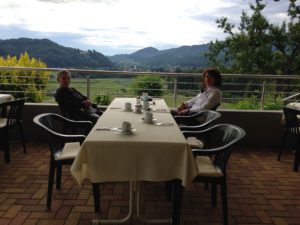 Is there something better, then brakfast on a sunny terrace? A huge buffet is arranged, the local delicacies are arranged in an artisan way and mixed with international known goodies, like Styria Maki, pastry of zander and trout, pumpkin-orange marmelade, etc… it was amazing stuff, the chef prepared for us. 🙂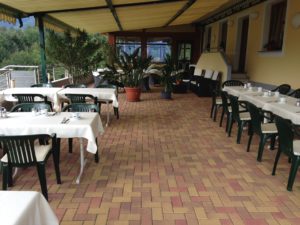 Minute for minute the other girls arrive to the breakfast table and do join us in tackling the buffet.
Together with some coffee, the spirits are awaken again.
After this early brunch, i doubt, that lunch will be necessary ;-)Even better, more time to ride!
After a view rounds between buffet and table, we are well prepared to start our ride again.
Only 30min later we put the paniers back on the bikes and roll them out of the garage.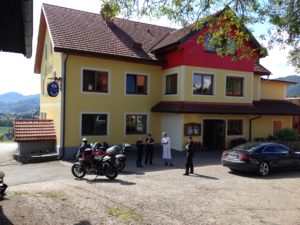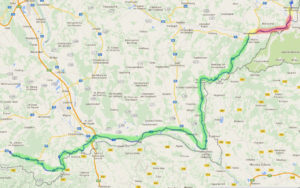 Its a pleasant warm air, and we enjoy our ride to Leutschach, where we do a tank stop again and then head on to the South Styria Wine Street.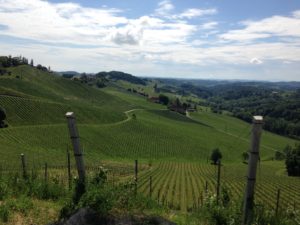 The narrow road bends multiple times through picturesque hills, on top some wine growing estates, sourrounded by vineyards. The road follows the border between austria and Slovenia, so sometimes we are in AUstria, then we are in SLovenia, but that doesn't matter here, we only follow the bended road, uphill and downhil, mesmerised by the beautiful view. As the street is very narrow, I do not want to travel there with a car, as the road isn't a one way road. So other approaching cars would be difficult o handle, but no problem with the bike 🙂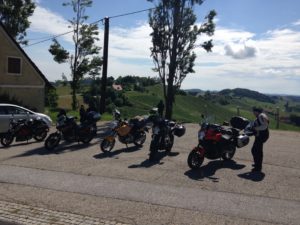 Naturally we stop at some point to, only to absorb the view over the hills into slovenia.
And on we go, along the border, sometime meeting some army guys patrolling there, but no stranded fugitive is seen so we head on unmolested.
At Spielfeld we enter the Grazer Becken, but there is not much to say: _________________________________
Its really flat, so only recommended to cross, to regain higher ground again, as it starts after Bad Radkersburg. ,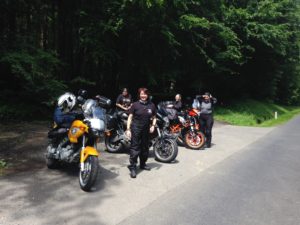 So, we do our first regular stop in the shadow of some forrest trees. The coffee has to be replaced with some water as we enter the next wine street on our way, the Südburgenländische Weinstraße and the sun is still burning from the sky.
Its quite similar to the Styrian part, but not so overcrowded with tourists, as it seems. Everything is smaller and cheaper, then in the southern part.
We pick the narrow roads there to and we were not disappointed at all, the tires, not really used yesterday due to the rain, do have the chance to show us their limits now, but I must say, that with our yesterdays experience in the rain, the confidence into our tyres have mounted from rain to rain, so our threshold has been lowered substantially 😉
After some time, we drive down to the Raab river valley a more flat area, where the first clouds appear on the sky, heading out of Hungary towards our planned route. As there are some gaps we still try to avoid the rain and head on, but short after we are forced under a huge chestnut tree, where we, again, chnage back to our rain gear. Right in time, as suddenly water is poured down on us, like it was poured out of a bucket.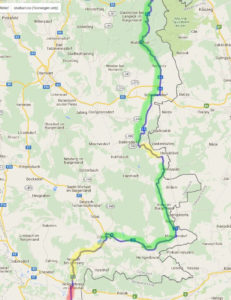 It last only for a short period, so we arrive at Güssing, with ist prominent High Castle ruin admist the city again with only cloudy sky.
Still, we ride along the hungarian border to the north, the wavy area, with wide rounded curves invites us to probe our tires a little bit more, and short, plain rain do not harm us anymore in our pleasure.
We arrive at Rechnitz shortly afterward, it is situated at the foot of the Gschriebnstein, where we hold for a tankstop and a little refreshment, before we start our climb up the mountain. We remove our rain gear too, as it would hinder us in movement along the following kilometers, so we can solely concentrate on the track to come.
And, despite the fact, that Burgenland highest mountain is only 860m in highed, the following track is a beautiful carved road up and downhill, and the speedlimit of 80km/h isn't a problem at all, it fits very well with the available bends. 😉
As it seems, only minutes, the track end on the other side of the mountain at Lockenhaus, where another interesting target awaits us:The castle? The Knights meal? Köszeg (Güns) with the picturesc old city center?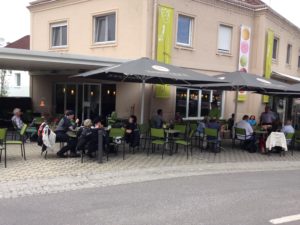 But, no, only some fleshly things, we cherish.
A small parking lot, dedicated for motorbikes, close to the entrance of the main place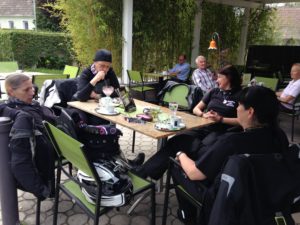 n right in viewing distance o the backery and ice shop, stops our furtehr advance.
And, as it seems we are not alone. Its a meeting place for bikers from Hungary, as well as Styria, Lower AUstria and the Burgenland, even from Vienna there are some bikes.
I had planed to use the stop for a short visit of my new (future) dog in Köszeg, but our stay will be relatively short, as in our general driving direction first clouds are massing again.
So we head back to our bike after some cool bowls of ice and proceed further on in direction to Kirchschlag. But, after the first hill, the rain, again, breaks totally loose. It was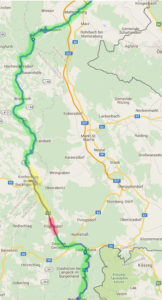 surprising, we had to take shelter outside a mortuary, under the broad roof we quickly put our rain gear again. As fast as the rain had come it also disappeared and cheased completely after a few kilometers. At Kirchschlag we again, head into the mountains, a small road along the ridge gives us a beautiful view over the countryside, and the well build tarmac – as it seems from EU funding – is a nice complimentary for our bikes.
Much to fast we arrive at Forchtenstein an, the speed limit along the narrow winding road is resonably set, so again an interesting experience.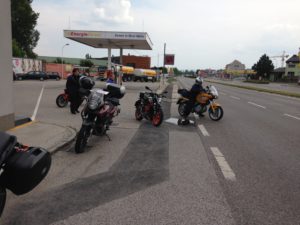 JFrom here to Eisenstadt, the track isn't beautiful at all, straight roads, and often flat, no big surprise at all. At Eisenstadt we say our farewells, as closing in to Vienna, we expect that our small group will be torn apart within the long car columns heading back to the capital.
We no ride over the Leitha Gebirge in direction to Stotzing, a road section named one of the deadliest roads for motorbikers in Austria in 2009.as ebenfalls sehr schön ausgebaut ist, but, without car traffic it would be less dangerous. 😉
SO, last section: Via Stotzing, Ebreichsdorf, Laxenburg, Wr. Neudorf back to Vienna. This part of our Journey was really uneventful, so we can really skip this part completely. As expected we loose sight of each other within the cars, but thats not a big trouble, as we will meet again, already on tuesday at our monthly WIMA Meeting 🙂
For now, the story of our weekend trip is over. It has been a beautiful experience to ride with the girls, and even the test of our rain gear resulted in a positive aspect! 🙂
PS: Short after, i was driving with my car to Köszeg, but thats a quite different story.