This post is also available in:

What a weekend!
OMG, what a weekend! Like heaven! At saturday enduro riding under beautiful weather conditions, and on sunday the big event: The austrians motorcycle magazines Ladies Camp!
The organizers were really brave to risk such an event without any former experience how many girls would join such a call. But we all got surprised. The official review (only in german) can you find here: LadiesCamp Report at the Motorrad Magazin.
200 girls followed the call und enjoyed the 2 days full program at the Wachauring in lower Austria.
The event covered
Testdrive with testbikes from Yamaha, Harley, Honda, KTM, Suzuki, Ducati – in sum 45 motorcycles which were always booked out, all together they were driven for over 9000 km over the two days, according to the organisers.
As different, as all the bikes were, each of them had something to experience.  Especially the   Superduke 1290 was quite an unusal bike for me.  Driving a bike, in 2nd gear, over open roads, slightly with overspeed, was some kind of experience.   ;-).
For the Yamaha MT 09 and the Suzuki SV , all of them showed an agile performance on the road and were a pleasure to ride . As for the  Husquarna 701 SM, I must confess, it was kind of agressive in the bends, I really got afraid to probe more than necessary.
An opposite experience would be the Honda African Twin, like a sofa during the ride and easy to handle even standing on the footpegs.
The KTM Duke 690 had no great surprises, it was a fitting road for her, so we went along the round trip in a "pleasant" way.
Safe driving lessons with small bends and high speed braking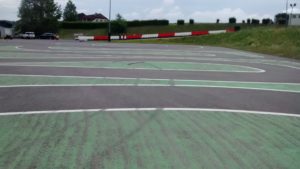 [huge_it_slider id="10″]
I never thought, that I would like to race on a track, but this was kind of real fun!  I wonder, how low I could really go with the Versys?  😉
And, unfortunatelly Margot had been in a different group, so, we still do not know …….  😉
Funpark (with Supermoto, Flatracer, Drift-Trike, Mini Bikes, etc…)
As you can See, the Husquarna 01 Sm, is quite a different bike on the track. With more trust in the tarmac, its quite more fun to drive along. It's hard to stop after some rounds and change the bike….
Trial and Enduro Training
At least, I had some experience here already. So this was the relaxing part.
Workshop with preparations for a motorcycle journey, and to proper adjusting your fork and suspension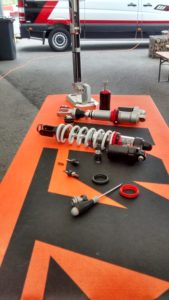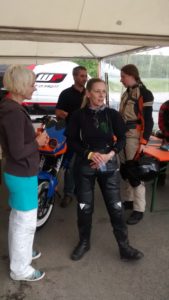 Finally I learned something about the proper adjustment, the Guy from WP was able to explain it in such an understanding way, so even I could follow. Will try it on the EXC first.
The whole event was in such a pleasant mood , the 9 hours we spent there went by as one. It was and still is a real gem.
Thanks to the very positiveafterwards response, the organizers already announced that the event will be repeated in 2017! 🙂
[huge_it_slider id="11″]
For me, as I wasn't shure if I would like to race, I experiences so much fun at thr track, I certainly will go for a race training again. 🙂
For the way back home I choose the route through the Wachau valley and as the weather was fine in the evening too, it was a really plesant finish of this splendid weekend.
Photo copyright with :  Anna-Larissa Redinger, Herwig Peuker und Versya