This post is also available in:

Wima India called for a participation in their big     #we_are_one ride.
Unfortunately the weather is quite different here in Austria, mid of january 😉
But, this shouldn't be an excuse not to ride!
So, to honour the worldwide participation in this ride, at least one of the Austrian Wimas was choosen to undertake this mission.
Strangely enough 😉 I was choosen for this task, and I gladly accepted.  🙂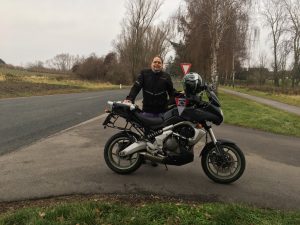 Thankfully the weather was rather moderate and so a 1/2 day trip could commence.
I started on the north eastern border of Vienna, short before noon.
It was a little bit foggy and it had approx. 5° celcius.
But I was neatly tucked in several layers of clothes and so it wasn't cold at all
I first headed north through the lovely – or better: the normally  lovely –  hills in the northern area.
Travelling on  known paths for most of the first part, but was suprised to find a wooden look-out tower in the middle of nowhere.
Strange, I newer saw it before.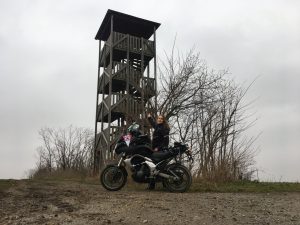 I took a hard turn left onto a gravel road, heading right into the direction of the tower.  Naturally the gravel road turned into a  deep track * surprise! * and I had to master the heavy Versys with its road tires.
But, I managed to get there without any accident.  🙂
Naturally, as I was now there, I climbed up the stairs and admired the foggy view.  😉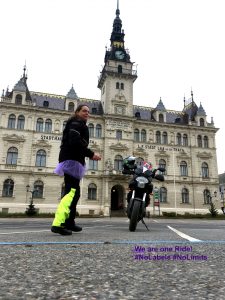 Afterwards I traveled further on to a local border town, where I stopped in front of the Mayors House to take another picture.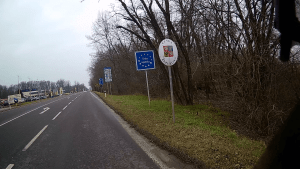 After a short picture session the tour went on over the Czech border,  and I then circled back  over the open border,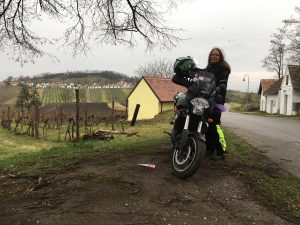 again over gravel road.
I found a big hill all over covered with wine cellars .
Surounded by wine yards I took another foto shot, and then I turned around and headed back south, to Vienna.
Damn right in time, as it already started to get dark.
Hmm, I suppose, I should have started a little earlier.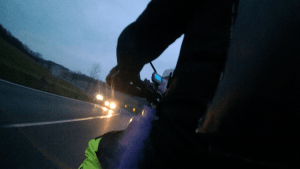 nevertheless I do know my way (for the most part) and so I return safely home after another 2 hours.
I didn't feel the cold first, but in the last hour, the cold crept through my layers, and so I was really happy, seeing the lights of the city from above.
After the ride I took a very hot shower and a cup of tee. I think, I really deserved it  🙂