This post is also available in:

Hello, will many readers be thinking now? Gentlemen?  Versya is everything, but not a gentleman? Yes, unfortunately I must agree with you, but can I really resist the temptation of a ride through Vienna, surrounded by flashing vintage motorcycles (new and oldtimers)? Who does know me, knows the answer: No! And why shouldn't I also think of my father, or brother, or my sons, true to the slogan of the DGR?  Exactly!  🙂 So, the alibi stands. What do I wear? OMG, what wears a distinguished gentleman? I study old photos of the DGR and make a decision. No jacket, no Bowler, but I  do thunder up. Leave my trousers at home this time and get on my motorbike in  a skirt or dress. A bit sniffed in the fifties movies, then Amazon boarded and voila, the wardrobe is already standing. Hopefully the fumble arrives in time! :-0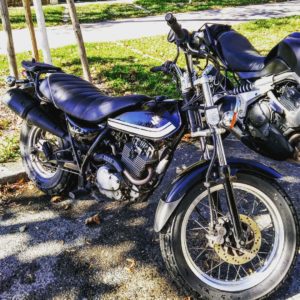 In the meantime 2 weeks have passed, I have donated diligently, because in return for many participants my participant account does not have a round 0.  #Proudofmyself I am therefore entitled to ride with a clear conscience, and not only for fun in the DGR, and I also get a day in advance (a little bit scarce, dear organizers!) the dates for place and time of the first meeting point. The motorcycle is washed – hmm the washing utensils are really so far down?  And extensively polished, because the weather forecast promises cool/warm weather and sun. Apparently once again the weather god of my Moto passion is friendly! 🙂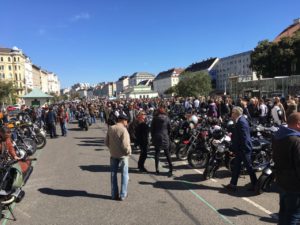 Then it's my own outfit's turn. That goes at least a little faster, because the clock is ticking, and too late would be a first (not gentlemen like) faux pas. Arrived in time on the spot, I'll be moved to the first row together with the other girls. This year the ladies drive up front, yeaaahh (ops – Hurray) .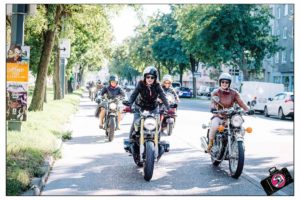 There is still a short speech and then the impressively large (the organizers speak of approx. 800 participants) convoy with police escort pulls first the Wiental city outward and after the Gürtel turns back again across the city up to the Danube island. Many astonished faces at the roadside. A good mood in the convoy. Heart (or better: prostate) what do you want more ? 😉 Maybe, a video?  😉