This post is also available in:

to be optimistic, really.. but the curse, it seems, it is still there…

As I told you before, my tires are really worn out, last race i did more slides then all other particpants together, so, finally new tires!! Tata!!
From my past experience, I feared, that I would end with broken rims, or worse.., so I decided to spent 25 € for an profesional, to do this for me.
As I already changed tires with the SX 125, I also was anchious to see, how  experts handle them.
I had some recommendations where to go, so I decided for one per random.
I went there and the sales man ordered 2 tires from the stock, but unfortunately in upper Austria not in Vienna, meaning delivery time: 1 week (180km street Distance!)
After a week I received a call, that the tires are available now, and I would be able to fetch them mounted.
So, I went there by car 2 days later, only to find the tires still not mounted to the rims, and: winter tire changes ongoing, sick leaves, etc…, no chance to get them mounted now. Pls. come back, maybe next Monday?
Today, Tuesday evening: I went there again, payed at the counter my two tires, and mounting, went to the garage, only to find still the old tires mounted on the rims!!.  🙁 So I went back to the shop.
After some discussion, agreement, that I will get them mounted now, right now  🙂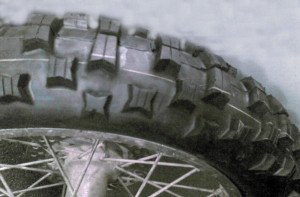 The mechanic just mounted the back tire, as I – hit by a strange inspiration – checked the DOT of the front tire. DOT (4308)
Hmm, If I did learn it right at the driving school, this would mean, the tire is 5 years old?!?  As you know, I still own such a tire…
Ok, back to the shop.  🙁
Sorry, no other tire with same specification and type on stock..
So I decided for the Pirelli Scorpion, as there will be a pair available on Friday, or so…..  to be continued…