This post is also available in:

Only a short teaser of my yesterdays indoor drift training,  🙂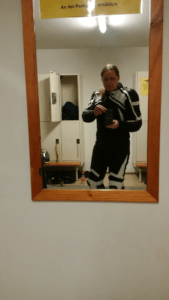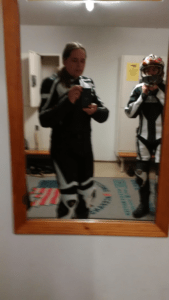 more to come in one of my next posts.
As the last time, it was a tough training and required a lot of stamina – ouch, my muscles are really, really sore now – to handle the small bikes over the lenght and bends of the Go Cart circuit.
As usually, I didn't finish, without an accident.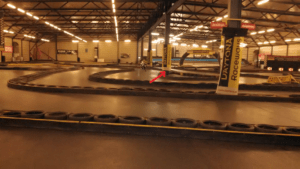 In my last round – now knowing what I could do 😉  – I might have tried it a little bit to much. Just a little bit. 😉
Unfortunatelly there was a steel beam just in my escape way – OOOOUUUUCCCCHHHH,  that was hard.
Fortunatelly the gear worked, but excactly at the gap between knee- and shoe protectors the edge of the beam found the way to my bones.
But, hey! Versya's bones are even stronger then steel, so it seems!
I only do have bad bruises and a contusion at my right shin. Totally worth it  😉
Video of the training, chases with my Junior and others, as well as the accident will follow, I promise!  but for know I have to go easy for some time, you know…..