This post is also available in:

Austrias newspapers a full of reports, in respect to the sitaution in our first stage refugee camp in lower Austria- traiskirchen.
The camp is designed to host approx. 1500 refugees, at the moment estimated numbers are exeeding 4.500
From the news, it was quite clear, that the refugees are in a desperate need of everything, as austrians officials not prepared – or willing? – to react quick.
So, as a beliver in the good, I decided to visit the camp on the weekend to get my own view on the sitaution there, but also provide them with some goods, i hopped to help them.
i filled my paniers up to the last gaop with differnt goods (list below) and on top of it I loaded an old tent i was willing to give away.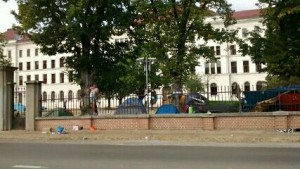 At the site i drove a circle around the camp to find a good spot, on the rear i found a african "Band" improvising some folk songs. i hopped for a good mood and so I stopped my bike. In a rush, I was surrounded by a big number of young men, asking for something.
I oppened one panier, and whooosch it was emptied at once. The second the same.
I also opened my backpack to scatter some gum, tabacco and kleenex packages, they also disappeared at once.
At last one of them asked for my backpack, i emptied it from my belongings and then handed it over. It was received with a very big smile 🙂
It was a real turmoil, but it showed the desperation of the young people there, homeless and damned to stay within the area. I was happy and sick at the same time.
i decided to do a second round, as I had seen a turkish supermarket on my way to the camp. There i fetched another load of goods, as well, as a 10kg watermelone 😉 It all disappeared as well within a short time, despite the fact I really carefully placed only single goods and not packages within the paniers.. 😉
A police car on patrol stopped due to the turmoil and asked if I would need help, or if I was attacked, but I gladly denied. The refugees were like grashoppers, leaving nothing behind, but they were still kind and tried, despite their obvious hunger, not to rush to much….
Thank you my friend, you are a good one, please come back again, etc……
Horrible, really horrible, much worse as I did expected, or was able to expect, in some way irreal, but still real, and this within Austria….. its a shame.
Most of the men where 16-20, all were still kind, and some of them were able to speak english.
My list of goods:
condensed milk
Tabacco (or cigarettes )
cigareete paper
cans: fish, Apineapple, peach and corn
apples(in kilos)
Bananas (in kilos)
bread(Turk. flazbread, Baguettes)
Mineral water 1/2 l bottles
canned lemonades
Gum
kleenex
wet wipes
Cremes (Sun and Skin)
Shampoo
Peanuts
Cookies
some cakes (Striezel)
tent
sleeping bag
Melone
(backpack), or some other kind of bag for transport
A tip:
Take a "bodyguard" with you, or try to manage the access to the goods in a secure/slowed way, otherwise they will be taken in a rush. 😉