This post is also available in:

it wasn't planned like that, surely it wasn't.
The idea was, to do kind of an alternative training. Speeding over some dirt roads. Something like that.
As this isn't possible within Vienna or the near vicinity, we had to use the transporter to get the bikes to the dirt roads.
At least that was the idea.
Unfortunately it stayed with the idea.
What happened? We found an oil leakage beneath the Husaberg. The source was easily found. It was the right fork of the Husaberg.
🙁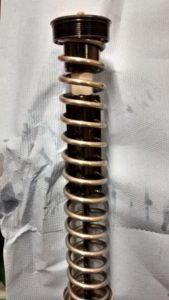 So, instead the whole program: Unload the bike, remove the fork, repair the leakage and replace the fork oil.
After this we mounted the fork back in place, and, what happened? It started raining.
Merde….