It started so well:
With fine weather I went throug, or over, Zillertal, Gerlos, Felbertauern, Lienz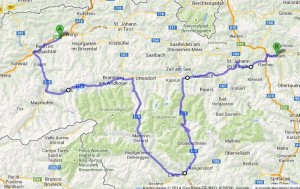 and Heiligenblut, up to "Franz Josefs Höhe" at the Großklockner – austrias higest Mountain and then, after a short stop further on to Hochtor.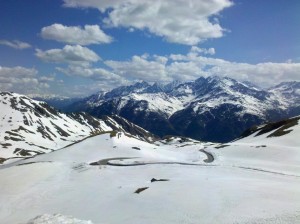 and there, it happened:
A parked car suddenly went back onto the street, and guess how is there, at this same moment? Meeeeeeee!!!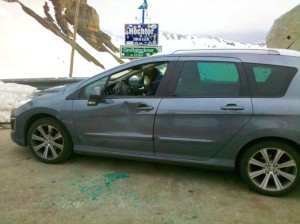 Shiiiiittttttt. It happens so fast, but first I try to brake, and accepting the fact, that it will not be enough, I try to evade to the left, but, still its to late.
Hitting the car itself is still a black spot for me, but short after I still find myself on the bike, bend over the handlebar, more standing then sitting, completely right and rolling on the opposite track of the road. Thank god, no other car there. It a kind of miracle…
My right knee hurts and my bike really looks dented and scratched all over the right side, the front fork looks skewed, but nothing further, thanks God!
We fill out all accident forms, (unfortunately I am to shaken to call for the police) and I am still shaking from the adrenalin within my blood stream but I decide to check my bike if I can travel on. I fear, otherwise I fear, otherwise I will not drive motorcycle again.
Surprisingly my Versys still operates in good parameters, well enough to carry me down the mountain pass and back to the Hotel at Radstadt. 🙂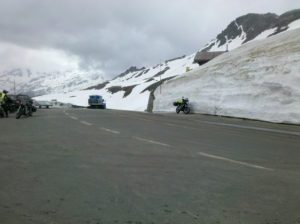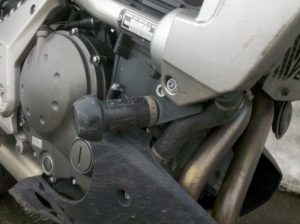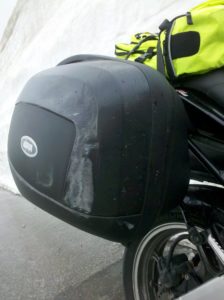 It's only months later, that I receive information, that my opponent files a compromise with his insurance, allowing them to sue me for damages, as from their point of view I AM THE GUILTY ONE for this accident!!!! Are they kidding me?
So the story continues here:
and