Sorry for the long interruption, but after the vacation, there were only stress moments.
But, now, the first update covering the events during vacation and after.
The beautiful weather really demanded it, we decided to hike up the valley, until the end, with snow shoes. Then we will use slates to travel back to the bottom.
The weather was really nice, only the last kilometer was with the southern climate, cloudy and snowfall.
Thanks to god, not as heavy as on the other side of the mountain.  😉
Along the way you will find some fairy tale scenes: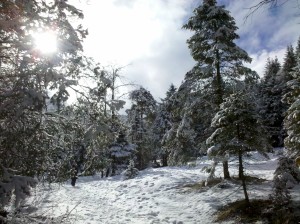 Up in the alpine hut its our tradition to drink warm tea and eat some "Kaiserschmarren"  (sugared pancake with/without raisins – but this doesn't really describes the taste, you should try it yourself)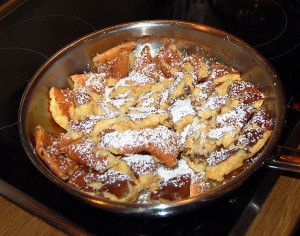 Downhill, most of the track could be used with the slate, but in the lower areas, the warm weather does melt everything away: