Do you remember my post I want to turn?
Is it really so long ago? Now, I had my training last sunday.  😉   And I have to declare: It was only my fault, not the trainers!
What happened: Heavy sweating training, driving on my limits, technically and condition. And then, my construction site stroke back – technical  – KO in the last round! :-/
In short detail: left turn , gas got stuck, good reaktion: pulling the clutch bad reaction: pulling front brake too , ouch… ->
didn't know, that a highsider is possible in MX too?!?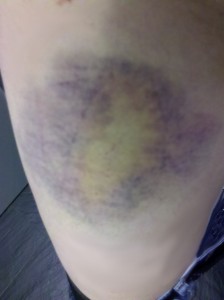 My body feels sore and buttered. And larger areas are covered in blue, yellow and green….
At least, the protectors really paid off, dont want to know what else I would have hurt…..  😉